Calendar
Mission u
Friday, July 28, 2017 - Sunday, July 30, 2017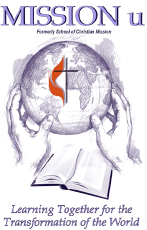 Come join the Global Board of Ministries and the United Methodist Women for Spiritual Growth and to expand your knowledge and concepts of mission.
The 2017 studies are:
Living as a Covenant Community
This study examines major covenants throughout the Bible and what they reveal about God's character and eternal love for us. It will enhance your understanding of how God works with us, in us, and through us.
Climate Justice: Call to Hope and Action
This study invites you to understand climate justice, which means setting right our relationships with each other and the earth. Climate injustice is the result of climate change. The study will challenge you to see what needs to happen for climate justice to become a reality in the world today.
Missionary Conferences of The United Methodist Church in the United States
This study gives the reader a foundational understanding of mission and ministries of the three U.S. missionary conferences of The United Methodist Church: Alaska United Methodist Conference, Red Bird Missionary Conference, and Oklahoma Indian Missionary Conference.
Registration and refund deadline: July 11, 2017
Download brochure - adult program Download brochure - youth program
Sponsored by United Methodist Women and Conference Board of Global Ministries