By Linda Worthington
UMConnection Staff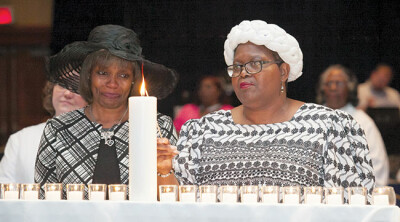 Friends and family of those who died during the previous year light candles for their loved ones during the Memorial
Service
June 2.
At each Annual Conference Session, those clergy and clergy spouses who died during the past year are remembered. Family members or friends light a candle as each one's name is called. Those remembered this year included four bishops and four bishops' spouses, 23 clergy and 17 clergy spouses. Eleven laity members of conference were also honored.
Opening the Memorial Service, Bishop LaTrelle Easterling said, "… We are one, connected in covenant; not even death can separate us from God's love."
The Rev. Ginger Gaines-Cirelli, senior pastor of Foundry UMC, brought the words of comfort.
Remembering the death of Baltimore-Washington Conference Bishop Felton E. May in February, she said, "He modeled for me the use of hymns to pray." She invited the congregation to pray with her the hymn, "Breathe on me, the breath of God, that I may live as thou wouldst love …. Breathe on us, O breath of God, that we may never die."
"We're here today with each other, colleagues, family, all of us. It's good to be with others who have the same experiences," she said. Often families share stories of memories and experiences. Jesus did this too, shortly before his death.
In the Scripture reading for the service, John 14:1-4, Jesus told his disciples, "Don't be troubled, trust in me, my Father's house has rooms to spare, (and) I'm going to prepare a place for you. … You know the way to the place I'm going."
"One of my favorite parts of this Scripture," Gaines-Cirelli said, "is that Thomas said, 'We don't know the way. Tell us.' Thomas says what is on others' minds: 'How can we know the way? … Are we to get there on our own?'"
The answer to Thomas' question, she said, is in the first part of the story: come and see. It is an invitation to be in relation with Jesus, because "I am the way of life in the Kingdom, in God."
"We gather to celebrate the lives of those who … join Jesus on the journey to walk in the way of life," she said. "Directly or indirectly, we have shared a common life — in the church with its gifts and challenges, its weakness and courage, its pettiness and sublimity." We also know, she said, the particular joy of being a clergy spouse, the beauty and challenge of lay ministry, engaged alongside full-time vocations.
Across our experiences of grief and struggle, she said, "We are one in God, we are God's children, bound and blessed together because of God's mercies." Nothing can separate us in God's love in Christ Jesus. "You are held there and deeply connected to each other through God."
Has not Jesus Christ shown us the way, she asked.
"The way is of love and mercy, of humility and service, and to accept the invitation to dwell in God's big tent," Gaines-Cirelli said. We can't make our way alone, but Christ will come and take us there, she concluded.
Youngsoo An, in a booming baritone voice with piano and violin, sang the Lord's Prayer.
Following the words of comfort, Cynthia Taylor, the new conference secretary, read each name, a bell was rung, and family members lighted a candle.
Conference Lay Leader, Delores Martin, invited all in the room who had experienced the death of a loved one this past conference year to stand and sing "Just a Closer Walk with Thee."