Smithville UMC supports creative art program in Ghana
Posted by Guest Author on
By Dave Bonney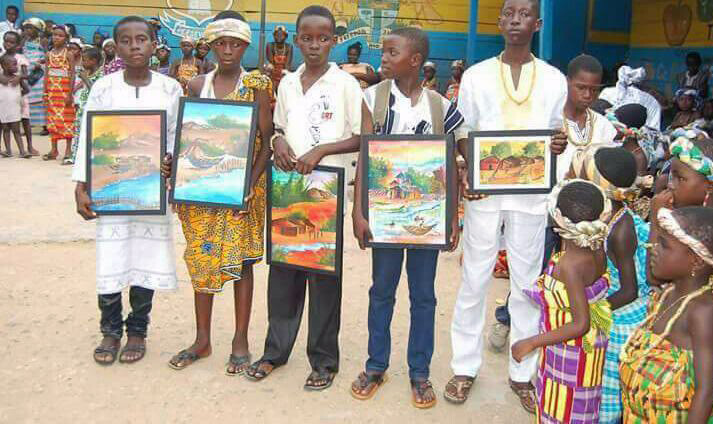 God, the greatest of all creators, the One who fashioned the Sun, and the humpback whale, and the eagle, made us in God's image. The Divine image has been stamped upon us. We alone are made in the image of God. God has given us the glorious task of representing God on the earth, of showing the world what our God is really like and showing the watching world that our God is a creative master who loves to bring beauty out of chaos.
"He has filled them with skill to do every sort of work done by an engraver or by a designer or by an embroiderer in blue and purple and scarlet yarns and fine twined linen, or by a weaver by any sort of workman or skilled designer." (Exodus 35:35)
In Ghana, a Christian artist by the name of Francis Nunoo had a vision of helping children find their God-given talents so they could express themselves. Sir Nunoo (as he is called by the children) believes that every child has creative talents, given by God, waiting to be discovered. Nunoo would go into the ghettos of Accra and set up boards covered with plain paper. With containers of colorful acrylic paints, he would start painting landscape scenes. Groups of street children would gather around him to watch. He soon had dozens of children painting individual works. The sight of this would cause many more people to gather around to watch. This was his opportunity to share the gospel and his commitment to Jesus Christ.
On one of these occasions the headmaster of the Egyir Primary School in Tema offered Nunoo an unpaid position at the school to develop an art program. The Egyir School is in a very poor area and most of the families survive by fishing. Many parents were upset that time would be wasted doing art when the children were struggling with core subjects such as math, science and English. The school headmaster could see many advantages for having an art program and continued to support it, struggling to obtain art supplies.
While on a mission trip to Ghana in 2015, I met Nunoo and was impressed with his program. Smithville UMC provided a small donation to the program and many needed supplies were made available to the school. In August 2016, I was invited as a representative of SUMC to speak at an art festival open to the community. The purpose of the festival was to show the parents and the community what could happen when God-given talents were found and expressed.
As I approached the school, I found the area very depressing. It looked as if the school was built in a landfill. Everything around it was bare or covered with brown dust. There was debris and human waste everywhere. Once I reached the walled school and entered into the compound the transformation was amazing. The yard was clean and there were bright and vibrant colors everywhere, paintings and tapestries, tie-dyed fabrics and colorful woven baskets. All the students and teachers were in colorful Africa wear.
A number of different schools, community members and three news stations attended the event. The combination art festival and talent show was very successful. The students at this very poor school not only showed great excitement about art but once they had found the spark of creativity that God had blessed them with, were able to find new means to express themselves.
The students also became more observant of the world around them and improved in all subjects at the school, thereby improving the school pass rate. Donations from SUMC provided a laptop, digital camera and funds to supply the art program for a year. This poorest of schools in the ghetto of Tema in Ghana became an oasis in a cultural and creative desert. A number of the schools visiting the event have now started arts and technology programs with the assistance of Nunoo.
This year, I was invited as a missionary from Smithville UMC to participate in a new program called Mastermind and Technology. The program has 37 students from five different schools. The children meet for two hours after school, four days a week and six hours every Sunday.
The program uses volunteers from the community, local officials, business leaders, local authors and local church leaders. Life coaching, mentoring, spirituality and worship are important components. There is a major focus on the importance of reading and that "average" is not where God wants you; "average" is the same as failure. The program wants each child to find their purpose in life. God has given each talents and skills and once the child taps into their God-given potential, they can find themselves and hopefully what God's plan is for them. Also, the program teaches that if you find your purpose in life and do not use it to help others in some way, then your life is wasted.
In May, I visited four primary schools in Ghana and, as a missionary from SUMC, spoke to a number of classrooms. The main purpose was to invite students to attend an open event at Mastermind and Technology. I spoke about different ways to worship and to show appreciation for what God is doing for us. I was also asked to talk about the creative passions and skills that God has given each of us and how it is our responsibility to develop and share our talent. I also encouraged the students to take advantage of their educational opportunities. Many children in the area are not able to attend school.
The expected attendance for the May 20 event was 200 to 300, but the actual attendance was closer to 500 parents and children. It was very successful, with visiting officials and parents awed and entertained. The outside wall of the building was covered with sheets of paper and children of all ages were expressing themselves with colorful acrylic paints. There were games, face painting and demonstrations of technological inventions and crafts. They saw beautiful art, woven baskets and other crafts, poetry recitations, dance performances and speakers praising the presence of the Holy Spirit in the lives of these children. The dance crews performed very energetic dances all choreographed to contemporary Christian music.
SUMC supported the program with paint supplies and a donation of a slide projector. The program hopes to have a permanent building in the near future. The number of children, both Muslim and Christian, attending Mastermind and Technology is increasing. Please pray that these art programs continue to help children find the gifts and talents provided by God and more importantly how they can use their individual talents to bring beauty to a chaotic world.