Smithville UMC sponsors creative ministry in Ghana
Posted by Guest Author on
By Dave Bonney
Special to UMConnection
In Ghana, a Christian artist by the name of Francis Nunoo had a vision of helping children find their God given talents so they could express themselves. Sir Nunoo, as he is called by the children, believes that every child has creative talents, given by God, waiting to be discovered. Nunoo went into the ghettos of Accra and set up boards covered with plain paper. With containers of colorful acrylic paints he started painting landscape scenes. Groups of street children gathered around him to watch. He soon had dozens of children painting.
On one of these occasions, the headmaster of the Egyir Primary School in Tema offered Nunoo an unpaid position at the school to develop an art program. The Egyir School is in a very poor area and most of the families survive by fishing.
While on a mission trip to Ghana in 2015, I met Nunoo and was impressed with his program. Smithville UMC provided a small donation to the program and many needed supplies were made available to the school.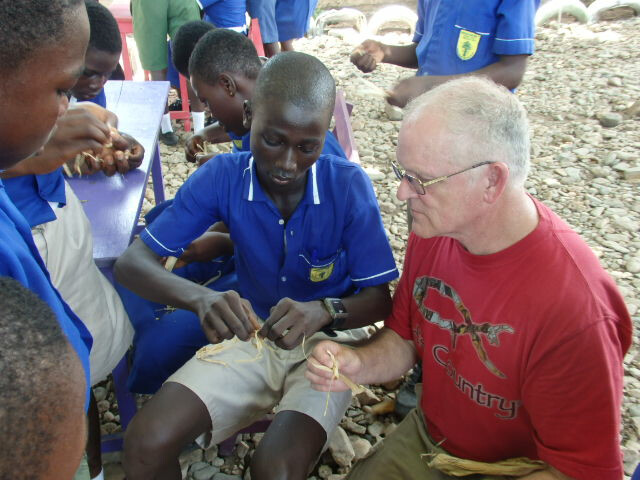 In August 2016, I was invited as a representative of Smithville to speak at an art festival in Ghana. The purpose of the festival was to show the parents and the community what could happen when God-given talents were found and expressed. As I approached the school, I found the area very depressing. It looked as if the school was built on a landfill. There was debris and human waste everywhere. Once I reached the walled school and entered into the compound, the transformation was amazing. The yard was clean and there were bright and vibrant colors everywhere, paintings and tapestries, tie-dyed fabrics and colorful woven baskets.
The students at this very poor school not only showed great excitement about art, but once they had found the spark of creativity that God had blessed them with, they were able to find new means to express themselves. The students also became more observant of the world around them and improved in all subjects at the school and raised the school pass rate.
Donations from Smithville provided a laptop, digital camera and funds to supply the art program for a year. This poorest of schools in the ghetto of Tema in Ghana became an oasis in a cultural and creative desert. A number of the schools visiting the event have now started arts and technology programs with the assistance of Nunoo.
This year, I was invited as a missionary from Smithville UMC to participate in a new program called Mastermind and Technology. The program has 37 students from five different schools at this time. Life coaching, mentoring, spirituality, and worship are important components. There is a major focus on the importance of reading. The program wants each child to find their purpose in life and, hopefully, what God's plan is for them. Also, the program teaches that if you find your purpose in life and do not use it to help others in some way, then your life is wasted.
In May, I visited four primary schools in Ghana and as a missionary from Smithville UMC was allowed to speak to a number of classrooms. I spoke about different ways to worship and to show appreciation for what God is doing for us. I also talked about the creative passions and skills that God has given each of us and how it is our responsibility to develop and share our talent.
On May 20, the event was held. The expected attendance was 200 to 300, but the actual attendance was closer to 500 parents and children. There were games and face painting and demonstrations of technological inventions and crafts. They saw beautiful art, woven baskets and other crafts, poetry recitations, dance performances and speakers praising the presence of the Holy Spirit in the lives of these children. The dance crews performed very energetic dances, all choreographed to contemporary Christian music.
Smithville UMC supported the program with paint supplies and a donation of a slide projector. The number of children, both Muslim and Christian, attending Mastermind and Technology is increasing. Please pray that these art programs continue to help children find the gifts and talents provided by God and more importantly how they can use their individual talents to bring beauty to a chaotic world.