Rev. Adrienne Terry
June 24, 2016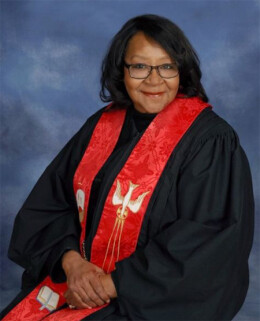 Rev. Adrienne Terry, 65, an active Elder serving Christ UMC in Southwest Washington, D.C., died suddenly June 24, 2016. Her Celebration of Life service was July 9 at Asbury UMC in Washington.
Adrienne Terry was born Nov. 6, 1950, in Detroit, Mich., the eldest of two children of Willie L. and Nettie M. Terry. She attended the Detroit public schools. She played the piano, violin, viola, flute and sang in the church and school choirs. She participated in Wayne State University's Upward Bound Program and, at 16, received a full scholarship from the Martin Luther King Foundation to attend Western Michigan University in Kalamazoo. She was the first person in her family to receive a college degree, a Bachelor of Arts in Special Education.
Terry taught special education in the Royal Oak, Mich., school system where she met and married Edsel Goode. They had one child. After moving to Washington, D.C., with her daughter in 1979, she applied her passion about issues pertaining to women, children, poverty, and HIV/AIDS by working as a leader and supervisor in Washington. and Maryland educational advocacy programs.
At the age of 29, she became the principal of Edgemeade School for troubled youth in Upper Marlboro and later served as a program director at For Love of Children (FLOC) and City Lights. During this time, Terry received her Master's in Special Education from George Washington University then worked in the Department of Health and Human Services, Substance Abuse and Mental Health Services Administration.
Terry received her call to ministry while working as a lay leader at Douglas Memorial UMC. While working full-time, she obtained her Masters of Divinity from Wesley Theological Seminary and was ordained an Elder in The United Methodist Church. In 2000, she was appointed to the Oakland/Franklin Cooperative Parish, then the Franklin UMC until August 2003, when she was transferred to Asbury UMC for a short time. From 2004-2009, she served St. Matthew's UMC in Baltimore. This was followed in 2009 by Christ UMC in Washington, where she was at the time of her death.
At Christ UMC she fostered a number of ministries including the Youth Mentoring program for boys, the Godmother's program for the Glory Girls ministry, the Noon Day Prayer Service with Greater Works Ministries, the AYA Farmers Market with the Dreaming Out Loud non- profit organization, the Amidon School Food Distribution effort and other community based ministries. She believed that CUMC was uniquely situated to bring all parts of the Southwest DC Community together in the same space to worship and dialogue about the ways in which they were more alike than different. Terry guided her congregation to establish mentoring and tutoring programs for the youth in the community. Youth were involved in leadership of Sunday services, summer camps and ROCK. She also served as a member of the Commission on Religion and Race, the Committee on Children and Poverty, and Black Methodists for Church Renewal.
As a member of the faculty at Wesley Seminary as a colloquy leader, Terry participated in its Practice in Mission and Ministry in the Urban Ministry Program. She led mission trips to orphanages in Haiti, established partnerships with non-profits focused on assisting teen prostitutes and homeless women, and became a strong advocate for affordable housing in Washington, D.C. She was a community leader in the DC Inspire project.
Beyond her professional life, she was a member of Zeta Phi Beta Sorority, Inc. In 2002, she became a caregiver and research advocate for the National Multiple Sclerosis Society, and in 2009, became a volunteer in the White House Office of Presidential Correspondence.
Survivors include her daughter Casey Stewart and her husband, two grandchildren, her mother Nettie Mae Terry, and a sister.
Condolences may be sent to Casey Stewart, 6403 Forest Mill Lane, Laurel, MD 20707
Due to her commitment to fair housing, as a memorial, District Superintendent the Rev. Gerald Green announced the establishment of the Adrienne Terry Fund for Affordable Housing. To contribute, write a check to the Conference Treasurer, marked Adrienne Terry, and send to 11711 East Market Place, Fulton, MD 20759-2594.
Comments