Pastor appears on Grammy-winning album
May 3, 2017
By Melissa Lauber
UMConnection Staff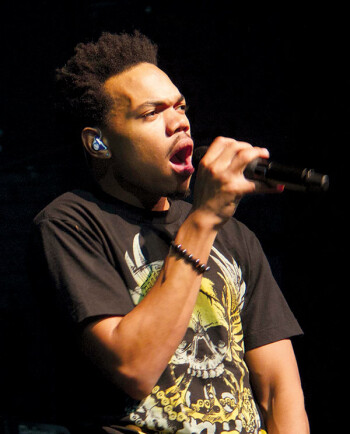 Chance the Rapper performing live in November 2013.
What inspires the inspiring? For Chance the Rapper, it's the preaching of a United Methodist pastor in West Virginia.
In 2016, Chancelor Johnathan Bennett, who is known professionally as Chance the Rapper, released his mixtape "Coloring Book," which was streamed 57.3 million times the first week it was released. He went on to win three Grammy awards, including Best Rap Album.
On Coloring Book is the song "How Great." Two minutes and 44 seconds into the song, before Bennett begins to rap, one hears the voice of the Rev. Rudy Bropleh preaching at Asbury UMC in Shepherdstown, W.Va.
"The first is that God is better than the world's best thing. God is better than the best things the world has to offer."
Bropleh's sermon from 2013, was on YouTube. He's not sure how the rapper heard it.
It was Bropleh's daughter Randa, who is a student at Towson University, who alerted him. She was listening to Coloring Book and recognized her father's voice.
"I thought she was tripping," Bropleh said.
A short while later, one of the students Bropleh teaches at Shepherd University raised his hand in class. "This has nothing to do with economics, but is that you on Chance the Rapper's song," the student asked.
"Young people are crazy about Chance the Rapper," said Bropleh, who has had to let his newfound notoriety "sink in a minute."
"It's an incredible feeling," he said. He feels like he has the rapper for a partner, if only for that one song.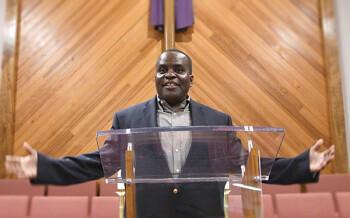 Rev. Rudy Bropleh
While Bropleh did not receive official credit or payment for having his words featured in the song, he firmly believes "it's the platform, not the paycheck," that's important.
"God's word is going out to more and more people," he said. It "takes the Gospel to a whole different level," and hopefully, "advances the cause of Christ."
Bropleh appreciates the kind of artist and man Bennett is, giving credit to God for his accomplishment, and giving a lot of money to causes he believes in.
Bennett has worked with President Barack Obama on My Brother's Keeper Challenge, which addresses the unique challenges facing young men of color. He's also been an active advocate combatting gun violence in his hometown of Chicago, and recently announced his intention to donate a million dollars to that city's public schools.
Time magazine recently named Chance the Rapper as one of 100 most influential people in the world.
Bropleh intends to reach out to Bennett to alert him to the work The United Methodist Church is doing. He also wants to share information with the rapper about the ministry he's doing in West Africa with economic empowerment and leadership development.
Listening to Bropleh's sermon beyond the few lines on the song, the message is amplified even greater.
"It's hard to fully fathom the greatness of God," he said. "God is greater than anything in human imagination and invention."
In his childhood, Bropleh learned about the God featured in John Bunyan's story of "Pilgrim's Progress," in which Christians were struggling people on a treacherous journey with many pitfalls and, in the sweet-by-and-by, were united with God and got their rest.
But that depiction is unappetizing for this generation, he said. "What excites me about what Chance the Rapper did is that we can reach a whole new generation of people to let them know that Christ is cool and the church is relevant."
He prays that young people will find a God of grace, a God of greatness and be in a relationship that helps them be their best selves.
"How Great" demonstrates the importance of the church and the message of life that it offers to the greater society," Bropleh said. "This confluence of hip-hop and Christian cultures speaks to the relevance of the church."
Comments