Online community redefines church
November 20, 2016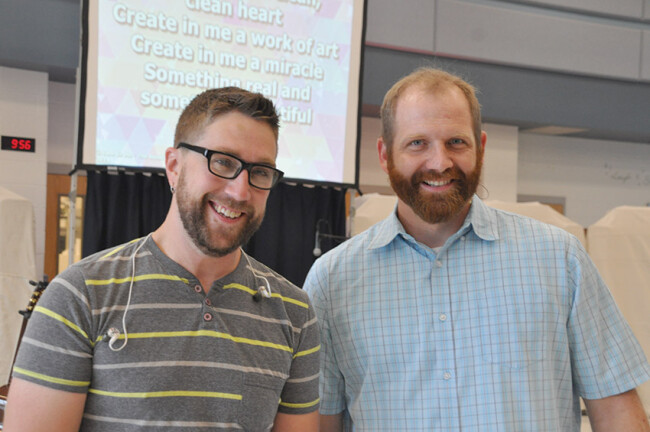 Ben Trawick, left, and the Rev. Chris Bishop prepare for worship at FaithPoint. They've created a ground-breaking online worship community.
By Melissa Lauber
UMConnection Staff
When FaithPoint UMC, which currently meets in a middle school in Urbana, decided to start a second campus, they abandoned traditional thinking – they even rejected the idea of having a building – choosing to create an online faith community that defies most current models of "church."
The new FaithPoint Online, which draws a community together on Saturdays at 7 p.m. via computer, tablets and cell phones, had its initial, but informal, start during a storm two years ago.
The Rev. Chris Bishop, pastor of FaithPoint, was learning how to best do ministry with an unconventional congregation at what some have lovingly called "the Land of Misfit Christians." Some of the members had been hurt by the church, others were exploring hard questions, some were in need of grace, and others just liked the freedom and innovation that came with worshipping in a middle school, where "church" was built and dismantled each Sunday.
FaithPoint is one of the Baltimore-Washington Conference's successful new church starts, chartered in 2004 under the leadership of the Rev. Matt Poole, now at Glen Mar UMC.
"Different is kind of our jam," Bishop said. "Our focus tends to be on doing ministry for the next five people who will come through the door, rather than those who have been there a while."
At this same time, Ben Trawick, a member of FaithPoint, was excited about putting some of his gifts as a professional videographer and editor to work as an expression of faith.
Trawick had noted that there were "no sacred cows," at FaithPoint. "People were willing to move things around and do things differently to best serve God."
Because they worshipped in a Frederick County public school, the church ended up closing when the school system shut down in the face of a major storm.
Both men realized this was an opportunity to try to do church online. Having a little time to plan, they decided to video the service in pieces, with people from the congregation filming small snippets – like the welcome, music, Scripture reading, and such – on their smart phones.
Trawick edited the pieces together into a cohesive whole. In those initial efforts, a new faith community and new way of worship was born.
When one thinks of online church, two images tend to come to mind. The first tends to be slip-shod video, shot on a camera placed by someone at the very back of the church sanctuary to capture the worship experience. The second is slick and high in production value, produced by a multi-media team at a megachurch that views worship as an extravaganza.
The pair from FaithPoint rejected both of these approaches and worked, instead, to create a tone that matched the spirit of their congregation. Their guiding principle is "authenticity."
With the online worship, "people are inviting us into their homes, into their lives," said Bishop. He wanted to return the favor in the online worship, creating intimate, genuine online experiences – inviting people to draw up a seat at each other's tables so that they can experience God together.
New services are broadcast on the first and third Sunday of each month; encore services are posted on the second and forth Sundays. The fifth Sunday is a different kind of experience that explores a topic or theme.
The service is hosted by a lead worshipper who guides the gathered community from point to point throughout the experience. Portions of the worship are filmed by the participants.
One worship leader lives on a farm and shoots with her animals in the background. Another couple cozily settles in on their couch as he plays guitar and she sings along. In a dramatic Scripture reading that involves Jesus and his disciples, the person reading the words of Jesus may be in an entirely different ZIP code as the disciples who respond.
Throughout the service, a running chat rolls up the side of the computer screen. This one feature is completely unlike anything in traditional worship. "Imagine if every time someone had a thought they said it out loud," Bishop said.
During one sequence, Trawick was seated in his living room, with his cat perched behind him. The worshippers noted the cat in the chat. "Is that cat real," they wondered. When it moved, they noted it with a sense of glee.
About 50 people tune in on a typical Saturday – more than 300 join the online worship during blizzards and other events that close churches.
Some people question how much "community" can be experienced if people are not physically together, face-to-face, or if people online hide behind masks. Trawick and Bishop are quick to refute such concerns.
They believe it may be generational, but they've seen people of all ages sitting in the same pew every week, wearing masks with one another, and they've also experienced "gut-wrenching" profound conversations unfold online. The church has also started online study groups through Facebook. They've even done pastoral counseling online, communicating in the ways that people feel most comfortable.
One of the challenges, they admit, is the stewardship surrounding this ministry. While people have opportunities to give online, they don't always realize that online church isn't free. A unified funding grant from the Baltimore-Washington Conference helps pay Trawick's salary and the overhead is low. But they're always looking for ways to expand and sustain the ministry.
They've also begun to share the lessons they've learned during the last year FaithPoint online has been officially in existence. They'll tell you to hold the camera phone steady, and make sure to hold it in a horizontal position. But the important thing, they've found, is to be open to new and authentic opportunities for helping people to have real encounters with Jesus.
They're intent on helping all people understand the breadth and depth of the Good News and online church is providing an interesting platform to do this. "Expanding and opening doors in this way furthers the understanding that grace and redemption are for everyone," Bishop said. "When Wesley said, 'the world is my parish,' the online world is included."
By Chris Bishop:
As people who know the Good News, we have been entrusted to be curators of God's movement throughout time and creation. This story of life-giving love sweeps us off our feet and enfolds us into an adventurous dance with the Spirit.
Sadly, we often take The Story for granted and it's upstaged by Hogwarts, The Shire, or the newest season of the Walking Dead.
We forget that God's story, our story, is alive and moving today just as it was when bushes burned, donkeys talked and wee little men climbed trees to get a better look at Jesus.
Today, you and I are on center stage and have been invited to share this story in a way that is meaningful and relevant. This may come via e-mail, snapchat or over a cup of coffee. We must remember that Gospel is most effective when heard in our native language. For some that means in the context of their favorite app or from the safety of their desktop. Let's be bold enough to put all that we are behind the telling of the greatest love story ever, so that others can't help but find their mark on the stage with us.
For an example of the flow of the worship at FaithPoint online watch this demo on YouTube.
Comments