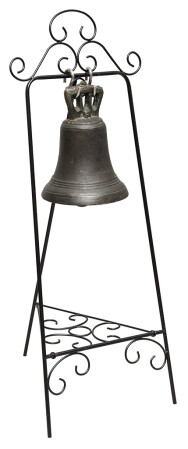 The Baltimore-Washington United Methodist Historical Society is pleased to be providing two important artifacts from the Museum at Lovely Lane for the 233rd session of the Annual Conference.
Candidates for Commissioning and for Ordination will be kneeling at a section of railing from the altar of Memorial Church – which once stood adjacent to Mt. Olivet Cemetery in Baltimore. Mt. Olivet Cemetery is the resting place of Bishops Asbury, Emory, Waugh and George, and more than 200 preachers including Robert Strawbridge and E. Stanley Jones. It was at this railing that E. Stanley Jones (1884–1973) heard the call that would lead him into a life of ministry and mission work. Known as "Reconciler" and "Apostle of Peace" and "Missionary Extraordinary," he played an important role in establishing religious freedom and understanding worldwide. He became a close friend of Mahatma Gandhi and wrote a biography of him which Martin Luther King said influenced him in the use of non-violent methods in the Civil Rights movement. More than 3.5 million copies of his books have been sold worldwide, and translated into 30 languages. He was nominated for the Nobel Peace Prize for his reconciliation work in Asia, Africa, and between Japan and the United States. In 1963, Dr. Jones received the Ghandi Peace Award.
At the Memorial Service, the original Cokesbury Bell will be rung as each name is read. This is the bell that once hung in the tower of Cokesbury College in Abingdon, Md (1787–1796) – the first Methodist College on the continent. The college was established at the Christmas Conference at the Lovely Lane Meeting House (1784) at which Methodism was organized as a denomination, and was named for Bishops Coke and Asbury. Though the college was destroyed by fire in 1796, today the bell lives on, as do the names Cokesbury and Abingdon (Press).
The Baltimore-Washington Conference is blessed to host many of the Heritage Landmarks and treasures of the founding of our denomination. Your membership in the Baltimore-Washington United Methodist Historical Society will make it possible for this Conference to sustain the work of preserving our unique heritage for the next generation.
Visit www.lovelylanemuseum.com/contact to join, or stop by the UMHS/CAH display table in the Exhibit Hall.