By Linda Worthington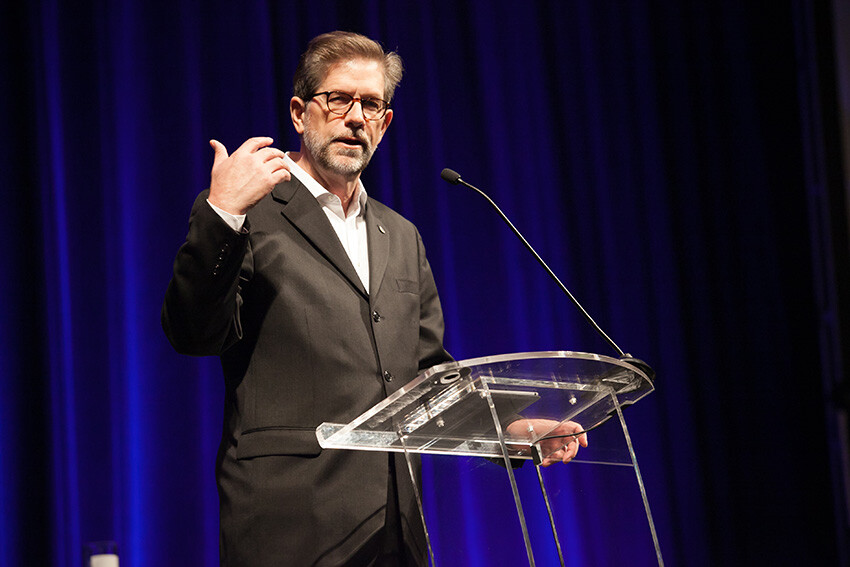 Rev. Steve Manskar leads Bible study Thursday morning.
"The Word is new every time we read it," said Bishop LaTrelle Easterling. On Thursday morning Conference members read the Word anew with the Rev. Steve Manskar, author of "Disciples Making Disciples."
Manskar focused on Ephesians 4:1-6, setting up the passage with Paul's thoughts about Christians as God's artwork and signs of hope.
"We are called to covenant," Manskar stressed repeatedly, citing the covenant made at baptism. "We don't baptize people in private but in a congregation." Quoting John Wesley, as he did frequently, he explained, "to those who say I can experience God alone … 'holy solitaries' is a phrase no more consistent with the Gospel than 'holy adulterers.'"
Congregations make four promises in the baptismal covenant to love, serve and care for each other, which he urged churches to keep visible. "We are called by baptism to be a blessing, to bring the world into God's kingdom, to also love one another."
"The oneness of God is reflected in the unity of the church," he said, noting that the covenant also believes in the three persons of the Trinity, each with a distinct mission.
Ephesians 4 says that the Trinitarian God is the Father above all; working with Christ to bring Heaven to earth; and the Holy Spirit is in all. This covenant is "to know God is God and we are not."
In conclusion, Manskar quoted from the U2 song "One," which describes what Paul is getting at: "One love, one blood, one life, you got to do what you should. One life with each other, but we're not the same, we got to carry each other."
Friday's Bible study will continue to explore Ephesians 4:7, 11, 16.