COMMENTARY: Church must 'uphold God's Word'
June 6, 2018
By The Executive Committee of the Baltimore-Washington Wesleyan Covenant Association*
We are writing on behalf of the Baltimore-Washington Wesleyan Covenant Association (BWWCA) and as members of the Baltimore-Washington Annual Conference.
While there are many things to be celebrated and much to be thankful for here in our conference, we acknowledge the ongoing struggle for theological and missional unity around making disciples for the transformation of the world. This struggle was once again apparent at this year's Annual Conference Session.
However, the BWWCA would like to publicly thank Bishop LaTrelle Easterling for her leadership and integrity during our work together in Baltimore. We appreciate the difficult position our Board of Ordained Ministry placed her in as they chose to ignore our covenant and recent Judicial Council rulings in order to put forth two candidates for ordination who do not meet our UMC standards. Bishop Easterling's steady leadership and pastoral care are to be commended.
We do, however, question the repeated failures of our BOOM in their supervisory and executive duties to both protect and guide candidates and represent the entire Clergy Session in their work. We feel it is an abuse of power to knowingly lead candidates forward in a process that is in conflict with their lifestyle, that uses them to further an agenda, and that subjects these persons to the public pain they experienced. Even if these candidates have been willing participants, the responsibility lies with the members of the BOOM who should know better and who are charged with their care.
These are extremely difficult days for our denomination and our leaders. As we prayerfully await the decision of the February 2019 Special General Conference, we have all been asked to allow time and space for the Commission on a Way Forward and our bishops to develop a faithful plan to guide and lead us into a promised future. It dismays us then, to see leaders in our conference not respect that request.
For years now in the Baltimore-Washington Conference, lay and clergy who desire to uphold our covenant and offer grace and truth to the world have been told that we are "not on the side of justice." We have witnessed, year after year, candidates come before us who willingly proclaim that they believe our doctrines are in line with the Scriptures, only to step immediately off the platform after making those vows and professions and go to microphones to condemn our standards and practices as hateful and exclusionary.
For years we have been told that a theological position that upholds God's love for all people, offers grace and forgiveness to everyone, and yet heeds Jesus' call to holiness, even in our expressions of sexuality, is not, in fact, loving. We are told that those of us who believe our Book of Discipline aligns with Holy Scripture are "far right" while those who desire to change it are "centrists." We reject these mischaracterizations.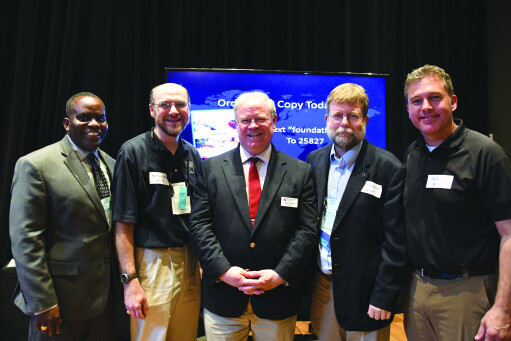 For us, the issues our denomination faces around human sexuality are one aspect of a larger struggle for a coherent hermeneutic that upholds the primacy of God's Word for God's people and properly applies the principles and commands it contains. This work is often not easy, and the results not always popular, but we are committed to it as faithful orthodox Christians have been for over 2,000 years.
We in the BWWCA grieve over the pain that our LGBTQ brothers and sisters have endured. We agree, and deeply regret, that the church's response to those who experience same-sex attraction has not always been one of love and grace. We affirm God's love for and the sacred worth of all people, gay and straight. We also believe that none of us are without sin (Romans 3:23) and so all of us stand in need of forgiveness. All of God's people are broken, and this brokenness is often reflected in our expressions of sexuality. This includes heterosexual sins that have often been ignored or treated too lightly.
The Good News our faith proclaims is that God's call and God's grace are available to all people and that through repentance and faith in Jesus we are forgiven and transformed into new creatures whose identities are found in Christ.
The BWWCA takes our biblical faith and United Methodist covenant seriously and believes the current acts of denominational disobedience, while full of passion, are disastrous for our church and create a level of ecclesiastical chaos that continues to keep the UMC from effectiveness. Perhaps in February 2019, the terms of our covenant will change and, at that time, all of us will have to prayerfully decide whether we can live within the terms of the new covenant. Until then, let us be faithful to our current United Methodist covenant for the sake of our church and our mission to make disciples. We believe that it is time for every United Methodist church of every size to get back to boldly proclaiming and modelling godliness for a world that is in desperate need of saving.
We believe the church is the hope of the world and we believe the world is waiting for the witness and invitation to a faith in Jesus that is powerful, transformative and real.
*Rev. Kevin Baker, Rev. David Deans, Matt Sichel, Rev. Charles Harrell, Johnny Hines, Jr., Rev. Rudolph Bropleh
The Executive Committee of the Baltimore-Washington Wesleyan Covenant Association
Comments