Clergy retirees leave a legacy of 695 years of service
June 11, 2018
By Linda Worthington
Each year at the Annual Conference Session, it is with a mixture of sadness and gladness as the retirees are recognized for their years of service to the church: sadness that we'll no longer (most likely) see them around the conference, at least in their expected roles; gladness that they have reached a time when we recognize "a job well done" and they can move on to the next phase of their lives. Altogether, the 22 clergy retirees in 2018 served 695 years in ministry.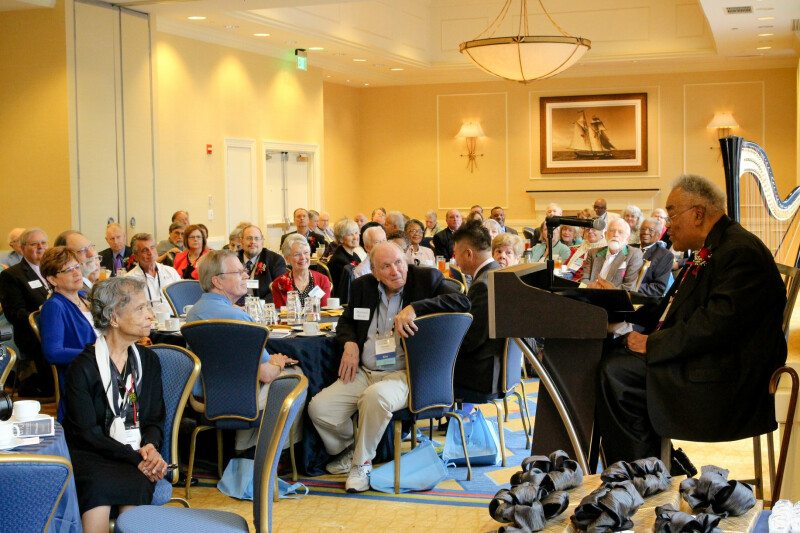 At a luncheon in their honor May 31, Bishop Forrest Stith, himself a long-time retiree, used 1 John 4:7-16 as the basis of his remarks. The bishop is a living inspiration to all his fellow clergy that, from this day forward, they will continue to live lives of meaning and service to others.
Stressing the importance of "being," Bishop Stith said there were two problems: It is easy to quantify our doing, but so hard to quantify our being. Technology breakthroughs have given communications the ability to quantify words and ideas faster than ever before, he said, "yet we struggle with that technology's ability to enhance the common good."
Of the 22 retirees, 10 are women and 12 are men. Professionally, they've served in dozens of ways that are part of their ministry records: as district superintendent (Terri Rae Chattin), assistant to the bishop (David S. Cooney, Charlie Parker) and other staff positions (James Skillington, Chattin); as chaplains or pastoral counselors (Marianne Grabrowski) and extension ministries (Skillington, Parker).
Some have served for more than 40 years, such as Reg Barss with 48 years, Ken Valentine and Kent Tice with 43+; and others, like Paulette Jones and Judy Smith Young with 10. Nearly all have served in their districts and the conference on committees and commissions and in their communities.
Some, like Hal Atkins, have shared ministries, in his case with his wife, Ann Atkins, an Elder who retired four years ago. Saroj Sangha is the first of her clergy couple to retire; her husband Moses Sangha, not yet. They serve separate churches.
Not all are ordained pastors. Some, like Paulette Jones who came into ministry late in life, and John Bragg, are part-time local pastors. Arthuree E. Wright is an ordained Deacon, who for 22 years has been Assistant Director for Information at Howard University Libraries.
Bishop Stith addressed the current denominational struggle on sexuality. He said, "It is my opinion that human sexuality is not the core issue, but simply a manifestation of three key issues: connectionalism; globality; and diversity – all cultural issues with biblical overtones."
Quoting John Wesley, he concluded, "I am not afraid that the people called Methodists should ever cease to exist … but I am afraid lest they should only exist as a dead sect, having the form of religion without the power. And this undoubtedly will be the case unless they hold fast both the doctrine, spirit, and discipline with which they first set out." That is two-fold, Stith added: "Being in love with God through Jesus Christ and being in love with each other."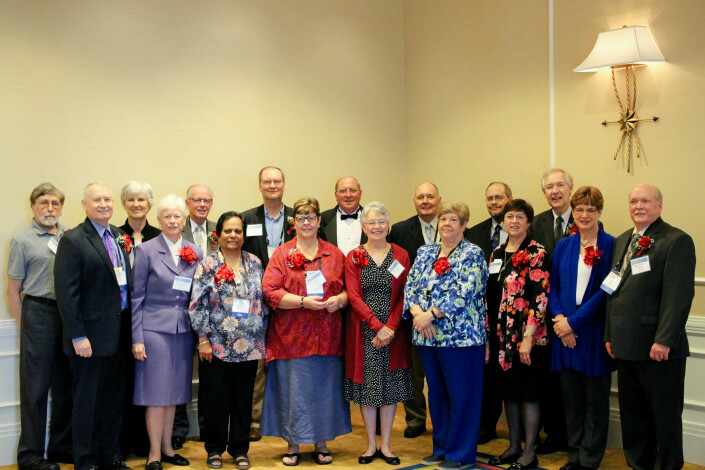 Retirees Class of 2018:
Harold "Hal" P. Atkins
Reg D. Barss
John Bragg
Susan Brown
Marianne Brown
Gail Button
Robert D. Carter
Terri R. Chattin
David S. Cooney
Frances C. Dailey
Marianne S. Grabowski
Bruce A. Jones
Paulette Jones
Charles Parker (as of 1/1/18)
Saroj S. Sangha
David Shank
James E. Skillington III
Kent Tice (as of 1/1/18)
Kenneth S. Valentine
Robert Wellman
Arthuree Wright
Judy Young (as of 12/1/17)
Comments