By Melissa Lauber
UMConnection Staff
At
Mt.
Zion UMC in Bel Air, crafts, dancing, Bible study and worship are part of "Beyond Capernaum," one of the largest ministries in the nation for people with special needs. About 600 people attend the church's programs every week.
At Mt. Zion UMC in Bel Air, they never underestimate the power of God acting through one person.
When Joshua Cooney was younger, his mother, Terri, worried that he needed friends to spend time with and care about. Joshua has special needs. In 2009, she collected a small group of people at her church, and began an informal fellowship.
Today, that group has grown into one of the largest ministries for people with disabilities in the nation, and the largest in Maryland. During a good week, 600 people will attend the five programs, which include a worship service, a Bible study, and sessions for recreation, socialization and fun.
Cooney remembers that she was a new believer when the Lord led her and her family into foster care and adoption. She told God she was willing to adopt any child, except one with special needs. "We were simply not equipped to do that," she said.
God gave them Joshua, who was handsome, sweet and healthy at age 1, and by age 2, showed signs of autism that sent his mother "kicking, screaming and crying, into the world of the special needs community.
"I was a woman of faith who believed that with love and prayer, God would heal Josh, but instead God healed me," she said.
The community at Mt. Zion embraced the Cooney family as they faced new challenges. But Cooney's eyes were also opened to the "tremendous hurt, need and isolation so many families like ours go through."
She recruited the church's youth group to help her offer a twice a month fellowship for Joshua and his peers.
From that beginning a huge ministry blossomed, said Cooney. "God used the very thing I feared to change my whole life and to impact our church and our entire community."
Today, on Tuesday evenings and Thursday mornings, the fellowship hall tent at Mt. Zion UMC is buzzing with activity. There's basketball, dancing, crafts, games, snacks and live performances. There's also some prayer.
"How much does Jesus love you?" Brian Malcolm greeted a woman named Rachel. "So MUCH!" Rachel exclaimed. She provided the prayer, it was simple and beautiful, just like her.
Donald "The Junk Man"
Bowing their heads near Rachel were Jenya, who was adopted from Kazakhstan when he was 13 and Donald, who some people call the "junk man," because of his love for taking apart electronics.
Ben Einolf, who has high functioning Asperger's, runs the sound system for Rachel and provides technical support for the ministry, shared up a mantra of the group: "The only disability," he said, "is a bad attitude."
One of the highlights of the morning is bingo. The participants get to call the game. There are only eight patterns on the cards, which creates a lot of winners, and everyone who plays gets a prize, which are donated by JoAnne Zimmerman. She scours flea markets and yard sales, paying for the Bingo prizes with the $40 a week that's set aside from her household income each week.
"When I first came, it was hard seeing all these people with cerebral palsy, in wheelchairs, blind, or with autism," she said. "I felt sorry for them and didn't know if I'd come back. But my friend said, 'Look at their faces.' I did. There was joy. There were smiles. This is a very happy place."
Overseeing the chaos just below all the happiness is Brian Malcolm, the director of Beyond Capernaum, as the disability ministry is called.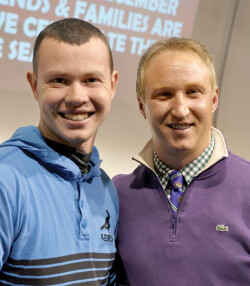 Brian Malcolm (l) and Ben Einolf
Malcolm preaches at the worship service for special needs people and their families, leads the Bible study, cares for everyone, coordinates volunteers, cleans up messes, and knows everyone by name. He's like the pastor of a 250-member church – only his people feel free to ask questions whenever the spirit moves; make requests to do impromptu Elvis Presley concerts; fall asleep if they're so moved; eat brownies during the sermon; and speak honestly what's on their hearts and minds, often without the assistance of internal filters for politeness. By design, or not, everything is interactive.
There is no charge to the people who come to any of the programs. The approximate $75,000-a-year budget comes from the church budget, although the ministry does enthusiastically accept contributions from others.
"A program like this can cost a lot," said Malcolm. "We can spend $10,000 annually on pizza."
But money is never the bottom line of ministry, said the church's pastor, the Rev. Craig McLaughlin.
"Jesus said that when you give a feast don't invite persons who can repay you by inviting you to their feast in return. Instead, he said, invite people who can never repay you, and then you will be greatly blessed by God. Beyond Capernaum is a beautiful example of this. Mt. Zion invites persons who cannot repay us to a beautiful feast of love, and God has richly blessed us."
The ministry does not apply for any state or federal grants, Malcolm said. "We're preaching the Gospel. We're all about that."
The "Jesus part," is important to Malcolm.
"Everything we do is centered around those with disabilities and their needs," he said. "We make them the stars. But all we do leads to Jesus."
Malcolm sees this ministry, to which he often devotes 60 hours a week, as a calling. A former marketing and public relations professional, he had become addicted to drugs and alcohol. In recovery, "Jesus saved me," he said.
He also feels Jesus directed him to McLaughlin and Mt. Zion, which has a significant addiction ministry. "People are dropping dead every day in Harford County," Malcolm said. "They flock here for hope."
He began to help the church with its marketing and volunteering. "Pastor Craig helps us learn to be obedient," he said, "to follow God with my whole heart."
"I don't like saying all this about my addiction. But at this church, we're transparent. It's a kind of witness," he said.
At the church, Malcolm initially began volunteering with the disabilities ministry, and three years ago, when Cooney stepped aside, he became its director.
As a former marketer, he has sometimes considered changing the name of the ministry. Not everyone knows what "Beyond Capernaum" means.
Capernaum, he explained, was a place where Jesus did miracles, where people went to find hope and healing. "How can you change that?" he asked.
In addition to ministering to people with disabilities, Beyond Capernaum also reaches out to meet the physical, emotional and spiritual needs of their families and caregivers. Providing a welcome to everyone is important, Malcolm said. "Many families have been hurt by God and the church. They find comfort here."
The ministry also empowers the lay people who lead and serve. At Mt. Zion, the laity are urged to ask the Lord what they are to do, McLaughlin said. "Ministries like Beyond Capernaum happen when leadership gives people permission to dream big as they follow Jesus."
As pastor, he's delighted to see how people with disabilities, who are sometimes ignored, forgotten or even feared, are welcomed. Just as the apostle Paul wrote, the church is learning, McLaughlin said, that "persons with disabilities, though often considered weak by the world, are indispensable to the work of Jesus."
Malcolm carries a photo of those whom he leads in worship. They're holding up banners that say, "Love Always Wins." That's our motto, he said. "That's why we're here. They all deserve respect and love, even if they're a little different," he said. "We're all a little different. We all have special needs – and love always wins."