Celebrating past with new vision
April 19, 2017
By Melissa Lauber
UMConnection Staff
After the Israelites defeated the Philistines, the story goes, the prophet Samuel erected a stone and named it Ebenezer, which means "Thus far the Lord has helped us."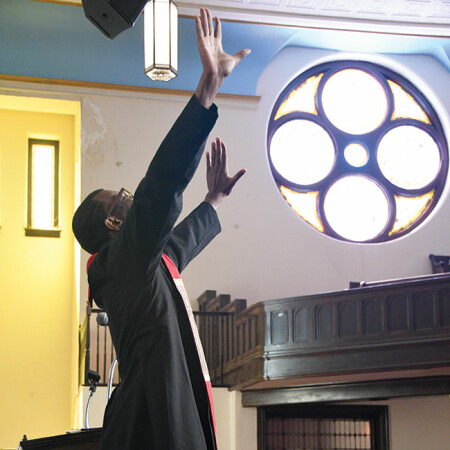 Pastor Bresean Jenkins prays at Ebenezer UMC.
On March 19, echoes of that same story continued as the people of Ebenezer UMC in Washington, D.C., met to praise God and celebrate their Founder's Day – claiming God's power as they seek to renew their historic church.
The congregation began 215 years ago, as part of Capitol Hill Methodist Episcopal Church, with 61 white and 25 black members. They worshipped in the spot where the National's Baseball Park stands today, said Sam Ford, a member Ebenezer's Historical Committee and a reporter for ABC7/WJLA-TV.
But the two groups did not remain together long. In those early days, black Methodists were relegated to the balcony, said Ford, who went on to quote from a history of Capitol Hill UMC.
"The colored members formed a considerable part of the congregation in those days ... Their lusty and musical voices greatly swelled the volume of praise … Sometimes, too, their swaying bodies and upturned faces made a weird accompaniment to the more decorous worship of the whites, and their leaping suggested the danger of a descent upon the heads of those who were on the lower floor."
"You see," Ford said, "they got scared some of y'all would get to shouting up there and fall down on their heads and kill one of them, so they moved us up here to our own church."
In 1838, 179 years ago, the congregation raised their Ebenezer as a small wooden church. It was the same year abolitionist Frederick Douglass escaped slavery in Baltimore by posing as a sailor and making his way to New York City.
There is no direct evidence that Ebenezer was a stop on the Underground Railroad, a network of safe places for those escaping slavery. However, Thomas Smallwood, who was one of the two men who created the first branch of the Underground Railroad, was a member of the congregation, Ford said.
After the start of the Civil War, between 1861 and 1863, the black population in the nation's capital increased by more than two-thirds. In 1864, the first public, government-sponsored school for black children in Washington, D.C., was established and housed at Ebenezer, Ford said.
The church has erected three successive buildings on their current site. But even more important than the structures are the people Ebenezer UMC has lifted in ministry and service to God, said Cheryl J. Kelley, the church's lay leader.
Rising out of Ebenezer's pews were the Rev. Emma Burrell, the first ordained woman pastor in The Baltimore-Washington Conference. (In 1956 she was a pastor in the segregated Washington Conference.) The Rev. Mary Brown Oliver, the first African-American woman district superintendent in the Conference, and the second in the entire denomination, remembers sitting in the balcony of Ebenezer as a child and still attends the church today.
The Revs. John Warren and Kevin Smalls also came out of Ebenezer UMC, as did the Rev. Charles Y. Davis Jr., pastor of the Full Gospel Baptist Church in Cooksville, who preached at the Founder's Day worship service.
Davis got emotional about "coming home" to Ebenezer. He wept when his father, Charles Y. Davis, Sr., introduced him before the sermon. What it all comes down to, both Davis men said in their own ways, is "try Jesus."
While the church has had a bright and history-shaping past, in recent years it has fallen on difficult times. When Pastor Bresean Jenkins arrived last July, there were sometimes as few as a dozen or so worshippers on Sunday mornings.
However, Jenkins is intent on bringing the church back to life by empowering all who come through Ebenezer's doors to find the gifts God has given them and to bring them to life for the church and community.
So far, it's working. Talented jazz, Go-Go, and other genres of musicians enliven worship. On sunny days, the church doors have been open and passersby were drawn into the sanctuary.
An artist at heart (and an art-educator with the D.C. public school system during the week), Jenkins is a creative and energetic leader. On many days at the church, he intentionally wears mismatched socks as a subtle message to all he meets that no one "has it all together." Nor, he said, should they. Ebenezer is becoming a community for people to authentically come together to share their lives – as beautiful or messy as they might be.
One of the ways the church is accomplishing this is focusing on the arts.
"The arts are our spark," said Jenkins. The congregation is using them as a means of engagement.
One of the first steps in that engagement is the NeoSoul Conference, scheduled for June 10. Drawing on nationally known performing artists, the conference will focus on dance, acting, music, puppetry, and spoken word and how these arts can energize churches in meaningful ways.
In ancient Greek theater, Jenkins noted, there used to be a place on stage called the "theologeion," or "place where god speaks." What's ancient is also new at Ebenezer when one claims the arts in new and fresh ways, Jenkins said.
Celebrating Founder's Day, the congregation celebrated its past, proudly claiming, "thus far the Lord has helped us," even as they look with hope to tomorrow and listen for God to speak.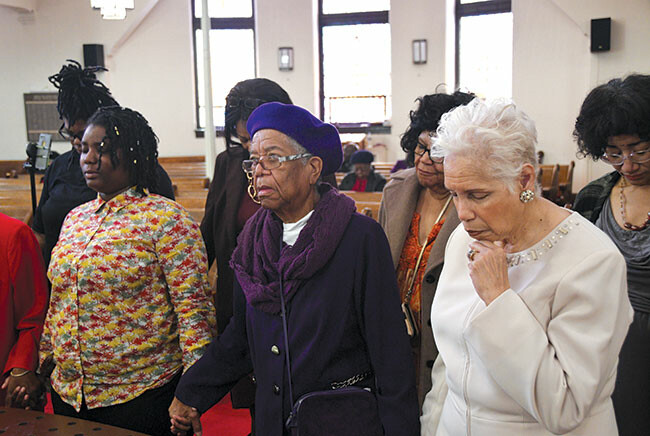 Members of Ebenezer UMC gather at the altar for prayer on Founder's Day.
Comments