Bishop names Smothers Congregational Development Resource Specialist
May 9, 2017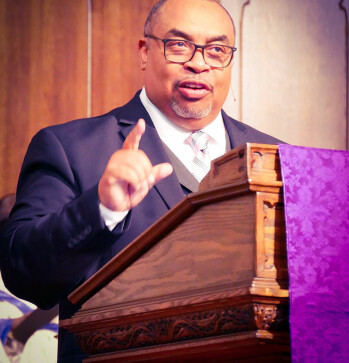 The Rev. Rodney T. Smothers has been appointed by Bishop LaTrelle Easterling to serve on the staff of the Baltimore-Washington Conference in the newly created positon of Congregational Development Resource Specialist.
In this new position, he will work to help build capacity and effectiveness in leadership, revitalize existing congregations, identity areas ready for new church starts, and coach pastors.
During his 36 years of ordained ministry as a leader throughout the denomination, Smothers has been involved with almost every aspect of church starts, revitalization and leadership development as a practitioner, coach, and teacher.
The breadth and depth of his knowledge and leadership will serve the churches of the Baltimore-Washington Conference well, Bishop Easterling said.
"I am excited to work with Rev. Dr. Smothers as he is enthusiastic and committed to moving leaders, congregations, and communities forward as agents of transformation and renewal," said the bishop. "As God continues to provide the vision for the Baltimore-Washington Conference in this new season, I will work to bring excellent, Christ-centered, disciple-making leaders to the staff."
As the Congregational Development Resource Specialist, Smothers said he prays that "in this season, we will model a new approach to congregational development and redevelopment that is anchored by healthy examples of partnership, community development, economic justice, racial diversity, and radical innovation."
While Smothers' ministry has taken place on a national stage, he is a child of the Baltimore-Washington Conference. He accepted Christ as his Lord and Savior at the age of 14 at the historic A.P. Shaw UMC in Washington, D.C.
He has pastored churches in the North Georgia and the Baltimore-Washington Conference, including, most recently, Liberty Grove UMC in Burtonsville. He has been the pastor of two new church starts and led three multi-cultural congregations. He also served as the director of Evangelism and Revitalization for the General Board of Discipleship, and director of Congregational Development and a Guide for the BWC. He currently serves as a leadership coach and consultant for the denomination's Path 1 New Church Development.
At his first full-time appointment, Smothers was called to plant Hoosier Memorial UMC in Atlanta. He started with 18 members and grew it, in four years, to 600. Another highlight of his ministry was at Central UMC in Atlanta, where more than 600 students completed Disciple Bible Study.
If there is one value that guides his ministry, it is an enthusiasm for learning.
"I am most joy-filled when I am learning," he said. A serial reader, he devours books that reinforce his passion and love of God's church. He believes in the power and potential of collaborative learning.
"My passion," he said, "is developing leaders to bring spiritual focus, innovation and missional engagement to their communities."
He also has a deep and abiding passion for his family – his wife, Dr. Lynn Thomas Smothers, and their three children, who are all now "experts in the ritual and sacraments of the church." He delights in remembering that moment when he stood with his oldest daughter Jasmine and placed the stole around her neck as she was ordained an Elder in the North Georgia Conference.
As he begins his new position, Smothers is aware that many churches are facing declining memberships and ministries. Too many are "facing a lack of spiritual maturity, the inability to live as Centrists and find common ground and share points of view," he said. "They have a scarcity mentality that prevents us from realizing the abundance of God's provision for our lives."
One tool that Smothers uses to awaken leaders and congregations to this abundance, in workshops and seminars across the country, is coaching, which he sees as "an essential ministry tool because it cultivates a culture of shared learning and execution of powerful innovation."
When he begins his new position July 1, Smothers intends to dive in, creating "a culture for coaching, congregational vitality and collaborative learning." He'll be leaning on a passage from the Message, Ephesians 4:11-14, which illuminates, in part, Smothers' shared desire to train Christ's followers to "be fully developed within and without, fully alive like Christ."
Comments