Asbury Methodist Village becomes first regional LGBT-friendly retirement community
September 12, 2018
By Linda Worthington
UMConnection staff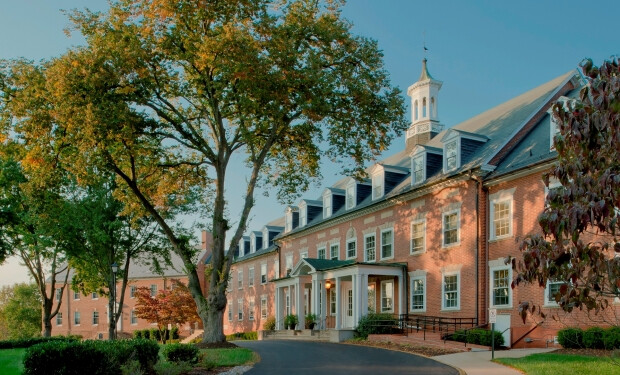 In July, Asbury Methodist Village in Gaithersburg became the first retirement facility in the Washington region to be certified as LGBT-friendly. It was certified by SAGE, a national advocacy organization specifically focused on lesbian, gay, bisexual and transgendered people over the age of 55. SAGE provides training and education on cultural competency as well as advocacy against housing discrimination.
The SAGE certification program began two years ago to address the needs of aging LGBT people, particularly for housing. Asbury Village is joining 300 providers in 45 states that SAGE has certified. An estimated 2.7 million Americans 50 or older identify as LGBT, a number projected to exceed 5 million by 2060, according to a study by the University of Washington.
Kenneth MacLean, 90, who became a resident two years ago, was searching for a retirement community, according to a July 9 Washington Post story. He asked, "Would there be any gays here?" The staff member was unable to answer his questions about how many of the 1,400 residents were LGBT, but assured him staff and residents would welcome his partner of 22 years, who lives in England and spends several months a year visiting him.
SAGE trained 25 percent of Asbury's staff on cultural competency, which led to the certification. Then, at the end of August, 80 members took a four-hour course, said Rob Liebreich, Asbury's Executive Director, "in addition to the hour-long course performed for our nearly 800 Associates." Training will be ongoing.
Liebreich is the motivating force behind the move. Used to a more overtly friendly acceptance of LGBT people from his previous job in Seattle, when he arrived less than two years ago, he decided Asbury could make a more concerted effort to reach out. "We hadn't been serving them as intentionally as we could," he said.
How many United Methodists live at Asbury? "We do not have an official count, as our residents represent a wide religious spectrum," Liebreich said. "However, we believe residents who belong to the Methodist faith remain our largest group by percentage." This includes "quite a few" Methodist ministers, he added.
Staff members are implementing what they have learned, such as employing subtle language cues to help LGBT people feel welcome. For instance, instead of describing an event as "Family Day," they will say "All families welcome," which is more encompassing.
Of concern to some is, during this period of high intensity in The United Methodist Church over homosexuality, whether the Baltimore-Washington Conference is compromised by this decision, since the Book of Discipline prohibits support for homosexual organizations, pastors of marrying same gender partners or of being ordained. Asbury Methodist Village was founded 92 years ago with "Methodist" as it's middle name but has no affiliation with the Conference and denomination. The BWC does not provide support to Asbury nor does the institution provide funds to the Conference.
Asbury Methodist Village is an equal housing opportunity provider and has a diverse resident population that includes and celebrates people of all faiths, races, lifestyles and backgrounds. "The community is open to all regardless of religion, race, nationality, gender or disability," says an information brochure.
Where to live for any aging adults is of major concern, but for LGBTs, there are added issues to deal with. Twice as many LGBTs are likely to live alone; and four times as many are likely to have no children, so the retirement community becomes their support through the aging process.
Most older LGBT people will live in facilities that serve the general population, and they worry if their peers will welcome them or if the staff might be hostile. A 2014 report by the Equal Rights Center found that 48 percent of older same-sex couples applying for senior housing were subject to discrimination. A report by the advocacy group Justice in Aging found that three-quarters of older LGBT people thought their peers could not be open with the staff of an assisted living facility about their sexual orientation or gender identity.
So it is at Asbury, where very few residents are openly gay. Asbury's applications for residency do not ask for sexual identification. And it may take a while before residents will feel comfortable enough to be in the open to talk about it. As Bill Mullinex, who moved into Asbury in December said with good humor, "I haven't announced (that I am gay) to anyone, but when you've never been married and you're 77 years old, I think most people can figure it out."
Alice Wong would like to change that. When she moved to Asbury four years ago, she wondered if her lesbian daughter would be accepted. Though she has never encountered negative feedback, it's hard for her to know who else at Asbury is LGBT and how their neighbors feel about it. It's generally viewed as a private, behind-closed-doors matter. Wong will be part of an issues group in October that will lead a discussion on the topic. She'd like to now see a meeting group for LGBT residents.
She noted that during Pride Month in June, rainbow flags popped up on balconies and on apartment doors. Some residents are showing interest in starting a PFLAG group on the campus. PFLAG (parents/friends of lesbian/gay people) supports people who have LGBTQ kids and loved ones.
There has been little criticism of Asbury's move toward LGBT people. Feedback that Liebreich has received has been enthusiasm from other similar institutions. "Within our resident base the conversations are mostly around how grateful they are given that they have LGBT members in their own families," he said.
"This is in line with our Methodist heritage, the beliefs of John Wesley, and Asbury's mission," he said. "We are here to do all the good we can…by all the means we can, for all the people we can."
Comments