Adam Hamilton will discuss new book at National Cathedral
Posted by Guest Author on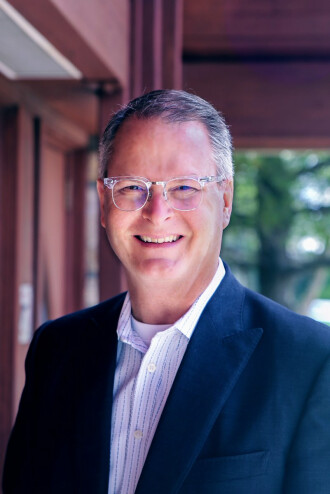 The words "fear not," or "don't be afraid," appear more than 140 times in the Bible. Fear is a part of the human condition – perhaps more today than ever. But the Rev. Adam Hamilton believes fear should never rob people of the life they want.
On March 12, at 7 p.m. at the National Cathedral in Washington, D.C., he'll unveil his new book, "Unafraid: Living with Courage and Hope in Uncertain Times."
His presentation, sponsored in part by the Baltimore-Washington Conference, will provide a fresh understanding of how people and communities can flourish as beacons of hope and serenity in an anxious age.
Bishop LaTrelle Easterling expressed enthusiasm at the opportunity to hear Hamilton discuss his latest work.
"In the end, I don't think we regret the things we did, as much as we regret the things that fear kept us from doing," she said. "Fear prevents us from being all God has called us to be. Courage, in the face of fear, makes us strong, makes us bold. It is my hope that the people and the members of the Baltimore-Washington Conference come out in force to hear the Rev. Adam Hamilton speak about his new book, 'Unafraid.'
"God has not given us a spirit of timidity, but a spirit of power," Easterling continued. "That power enables us to live with courage and hope. In this prescient resource, Rev. Adam Hamilton empowers us to do so."
Hamilton is senior pastor of the 20,000-member Church of the Resurrection, which is the largest United Methodist Church in the denomination. He is the author of 23 books and his reach working for reconciliation and church renewal extends across the globe.
In his ministry, he discovered time and again that fear has power to diminish people's lives and shapes us all in ways we often don't fully understand.
"As I was researching fear, I was struck by the fact that humans are hard-wired to fear," Hamilton said. "Our brain's amygdala is designed to be on the constant lookout for possible danger and to trigger the fight, flee or freeze response. It is a good gift that is intended to protect us. But when we fear what should not be feared, or we exaggerate a threat, or we ruminate on it, we find that what was meant to protect us can paralyze us with worry or anxiety, can leave us acting in ways that are unhealthy or hurtful. Because we're all wired for fear, it is easy for others to manipulate our fear for their gain."
Fear can be used as a great motivator in raising money and selling products. Fear is behind most forms of extremism in religion and politics, and even war. "Peer beneath broken marriages and friendships, beneath prejudice and hate, and you'll find fear," he said. "The good news in all of this is that there are a handful of very basic time-tested things that we can do to overcome our fears -- to live unafraid, with courage and hope.
For Hamilton, understanding and conquering fear has an essential faith component.
The frequency in which divine command to "fear not" appears in Scripture "tells us that "our faith in God can play a key part in helping us overcome our fears." He wrote the book, and with Abingdon Press, prepared videos, small group guides and resources for children and youth, because he thinks "the church can and should play a key role in helping people live unafraid," he said
In the book there are four steps Hamilton returns to again and again which have helped him, his congregation, and now, he believes the readers of "Unafraid," to live with courage and hope.
"Unafraid" will be published March 13. The evening before he'll discuss it and lead a Q&A session at the National Cathedral. Every person in attendance will receive a hardcover copy of "Unafraid."
They'll also learn about the small-group study curriculum that is a companion to the book. It includes a five-session DVD, Leader's Guide, Youth Study Book and Children's Leader's Guide.
"Everyone wrestles with fear at some level. It is one of the most basic emotions, and primary motivators in all of us. I believe those who read the book will find it to be a practical, helpful and inspiring guide to overcoming fear," Hamilton said. "I also think that churches who consider making this a church-wide emphasis will find that it will not only help their members, but serve as a terrific outreach to unchurched people as everyone struggles with fear."
Among the first words of Hamilton's book is a quote from musician John Lennon. "There are two basic motivating forces: fear and love … all hopes for a better world rest in the fearlessness and open-hearted vision of people who embrace life."
"Unafraid" provides the insights to help its readers understand that "courage is not the absence of fear; instead, writes Hamilton, "it is doing what you feel you should do, or what you long to do, despite the fear. As you press through your fear, you live a life of courage and hope."
For more information on the March 12 "Unafraid" event, and to purchase tickets, click here.