Acquaintances become old friends on repeat mission trips
November 7, 2017
By Linda Worthington
UMConnection staff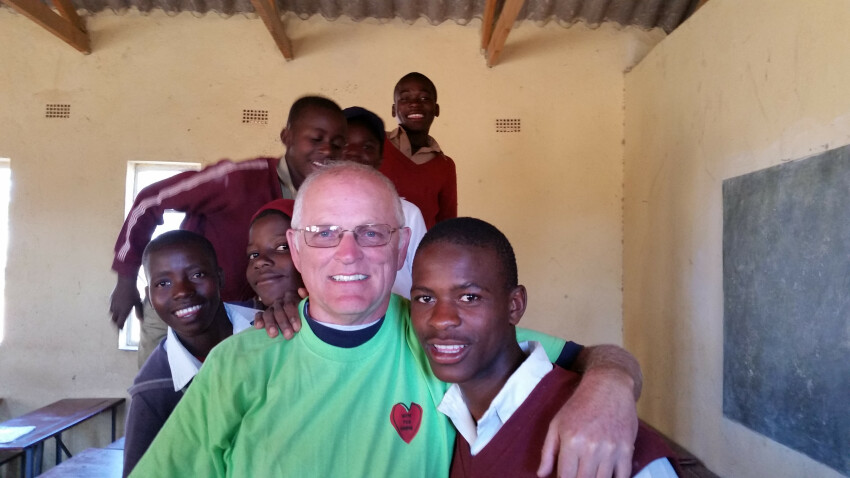 David Bonney, center, stands with some of the chess players at the Hanwa Mission School in Zimbabwe.
Photo courtesy of David Bonney.
Mission trips for many are a one-time "help the people out" adventure, in which the volunteer "giver" is often blessed beyond what the "receiver" is. But for one church, it's a win-win situation of mutual benefit.
David Bonney from Smithville UMC has been going on Volunteers in Mission trips to Zimbabwe for seven years, each time returning to the village of Hanwa.
"In the village of Hanwa, there is an undying and determined optimism amongst the many mothers, fathers and especially the young people who are struggling against all odds to make a better life," Bonney said.
"Each time I visit Africa," he writes, "I am deeply moved by the extreme poverty, underlying beauty, and promise of hope. … The world's poorest continent, it is rich with history, vibrancy and energy."
Even when the Smithville VIM team works elsewhere in Zimbabwe, Bonney said, "I always manage to find time to stay at or visit Hanwa for a portion of the mission trip. … Friends have become family."
During Smithville UMC's 2017 VIM trip, the church sponsored the sports teams from the Hanwa Mission School to participate in a regional sporting event. With the loan of two buses from other (more affluent) United Methodist Schools, the Hanwa sports teams were able to participate in the event, where they received team and individual awards for netball, soccer, volleyball and athletics.
The Smithville UMC Zimbabwe VIM team is part of the conference's Zimbabwe Mission, headed by Charlie Moore, who himself has made 23 trips to Zimbabwe. He sees such missions as a means to develop "very significant relationships."
Building churches, schools and medical centers, as most volunteer groups do, "is the entry point," Moore said, to establishing long term relationships. Establishing such relationships in the community makes it much easier to come in for the long term, he said, "and to fulfill our promises to the community."
The continued engagement with the community, such as Bonney has in Hanwa, helps to expand the mission by bringing others in. Half of the most recent of Moore's teams came from other states, he said, but the foundation was laid over the past seven years of return trips.
Moore summarizes mission trips in three models:
A group goes in over a period of time and focuses on one area, returning many times and helping the community where needed.
One specific mission, i.e., building a school or church. Again, he said, "return, return, return."
Teens going for 1-2 weeks to do a project. This is less effective but may be a pilot project for future engagement. The same persons do not see the same people again.
As Bonney listened to the students' stories and their participation in the event, he learned that one of their favorites sports was chess. However, they were unable to compete because they had no chessboards or pieces.
It was then that "God intervened," Bonney said. He had a portable chess set with him, and he soon offered to play with any of the boys that wanted to. It didn't take long for him to beat his opponents and gather a crowd to watch.
"By the end of the second match, … many were standing on the tops of desks, so they could see over those in front of them," Bonney said.
Among the watchers was a girl who would roll her eyes and grimace at every bad move. After he beat the fourth boy, he asked her if she'd like to play.
"She was very excited, and I knew I was in trouble," he said. "The room exploded in cheers and hoots when she checkmated me."
For the two weeks Bonney was there, they gathered every afternoon to play, using hand-made paper chessboards and pieces, enabling more than two people to be able to play at a time. Some of them also played the popular game, draughts, with paper boards and bottle caps or stones for pieces. "It became a big social and gaming event every afternoon," Bonney said.
He became more than "a visiting missionary," he said, becoming a friend and a member of the school community.
"Even during a mission trip, we are sometimes so concerned about getting things done that we are not always present to the people around us," he said. "But the most important thing that you bring to any relationship is your presence. … This is what inspires me to go with the Zimbabwe VIM team and lend a hand in an effort to help bring about change."
After Bonney left, the Hanwa Mission School Chess Club continued with the new math teacher at the school, an avid chess player himself, as its coach.
And no more paper chess sets. Smithville UMC has provided six new chess sets on which to play.
Bonney, the church and friends now also support the education of numerous students ranging from primary school to university, paying school fees, providing uniforms and in many other ways.
"The unexpected plans of God are always better than our plans," Bonney said. "I am excited by what has occurred."
Comments