Farming with fighter pilots and fishing for sheep: The paradoxical portraits of MOSAICS in real life
Posted by Guest Author on
By Rev. John W. Nupp
This article originally appeared in Epilogue: Fishing for Sheep of the 2017 Annual Conference Devotional, MOSAICS.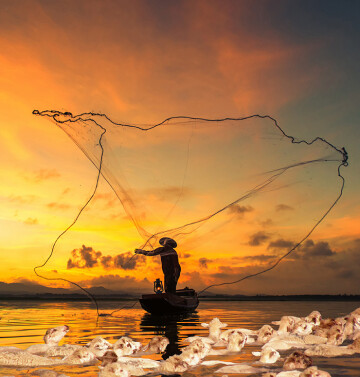 My father left his family farm at 17 to join the Navy. When he was just six years old, his father had taken him to Akron airport to see Charles Lindbergh. Ever since he was hoisted up above the crowd that day, my dad had been trying to get farther away from the ground. Joining the Navy gave Ralph Nupp, the son of a tenant farmer, a way to escape the Great Depression and soar into the Wild Blue Yonder.
During his career in the Navy and later as a test pilot with Westinghouse, Dad logged approximately 11,000 hours of flight time in over 50 different types of aircraft. But as much as he longed to see the world and rise above the clouds, as great as that call was for him to soar, at the end of the day, you could always find my dad back on the ground. As much as he loved flying, he would make his way back to the rows of furrowed earth, the fields of Timothy hay swaying in the summer breeze, and the warmth of horses nuzzling oats on cold mornings.
Maybe you are a stranger to farms, to tractors and livestock. But perhaps there is someplace familiar to you, something that holds the magnetic pull of home. Many of the followers of Jesus felt the pull of the nets, the spray of the lake water and the smell of freshly-caught fish. This was home for them, no matter how many miles they travelled. No matter how many healings they witnessed or powerful sermons they heard, nothing, not even the pain of the Passion or the surprise of Easter could tear them away from the allure of water lapping the shoreline and sunshine catching the waves. I wonder if this is what Jesus meant when he asked Peter, "Do you love me more than these?"
They had received a call from Jesus to follow. And indeed, they did follow him, through three years of miracles and powerful teaching. They soared with him and suffered with him, starved together and then, finally, learned how to sing a new song. But when all is said and done, there are still fish to catch and bellies to fill. There is still the rest of life to be lived, calling us back to what is familiar, pulling us out of the clouds, reminding us of reality. This is as is should be, I suppose. This is as it must be. Such is life.
But Jesus has come to the lakeshore, and life can never quite be the same. Jesus sits on the shoreline, reminds the disciples of where they have been, of who they have been, and then calls these fishermen to become something new: shepherds. (See John 21:15-17) Surrounded by the familiar sounds of the sea, the Savior challenges Peter and the rest of that crew to something new, a new life. Those who are used to fishing for a living are called to feed the Lord's lambs, to tend to the Master's sheep, to demonstrate the love they profess by doing something new with their lives.
We may go back to fishing, or to whatever is familiar to us, but we have been confronted by the Shepherd who calls us to care for his sheep. When we want to join our voices with the disciple who claims, "Lord, you know everything; you know that I love you!" then Jesus asks us to hear the call, to answer with our lives, "Feed my sheep."
We have been walking with Jesus too long to remain unchanged. We have seen too many miracles, been overwhelmed by God's abundant grace overflowing in our hearts. We have had our eyes opened to a whole new realm, a whole new kingdom where the self-giving life of Christ rules the day. As we re-enter our workaday world, we are invited to come as those whose lives have been transformed by time spent above the clouds. We may return to the same fields, but we have now viewed those fields from above.
We can no longer live a merely physical life, as if keeping active and eating healthy is what it's all about, as if keeping clean and breathing deep amounts to the whole of life. No – these things point beyond themselves to something more: to a miraculous, grace-filled life of taking in the sacramental wonder of broken bread and poured-out wine, of baptismal breaths that cleanse us and empower us for life in covenant community.
So comes the call to live, really live. Not just to live your life, but to allow the life of Christ to live in you. Allow the miracle of forgiveness to take root as someone reaches out to you, to welcome you in love. Allow the body of Christ to take shape as you reach out to someone else in grace. Jesus is still offering the call to life and life abundant.
Do you love Jesus, truly love him? Then be willing for Jesus to change you. Give your life to this new creation. Let it change the way you live in the here and now, in the familiar places along the fields and highways, along the shorelines and pathways of this life. Let it change the way you love, what you love and who you love. You might just find the Spirit of Jesus right here, in the One who is our true, eternal home.