A Kingdom of Ashes
March 14, 2017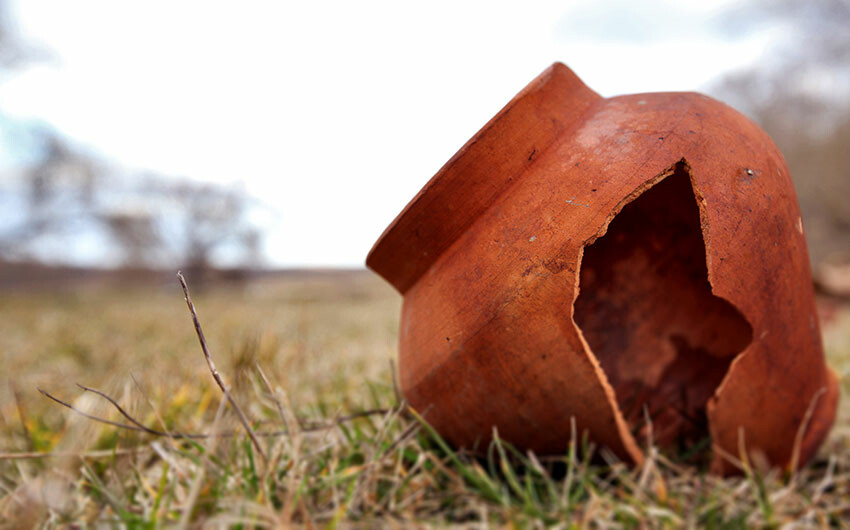 By Rev. John W. Nupp
Why do we gather for Ash Wednesday? Out of obligation? A sense of religious tradition? Trying to make some sense out of the nonsense in this world? Let me suggest to you that we gather because we are dying and yet we have been entrusted with new life.
How many of you are familiar with the story of Steve Gleason? Gleason, defensive back for the New Orleans Saints from 2000-2008, was diagnosed with ALS (Lou Gehrig's disease) at the age of 34. A few weeks later, he and his wife Michele received the news that he was going to be a father for the first time. He discovered what it means to be dying and to be entrusted with new life.
This is our story, too, isn't it? As followers of Jesus, we are immersed in this mystery of being clay pots, broken vessels who are given the task of carrying the life of Christ. Outwardly we are wasting away, but inwardly, we are being renewed in the image of the one who conquered death. We gather on Ash Wednesday because we are dying and yet have been entrusted with new life in Christ. Listen to the way the Prophet described this life, and how this life was fleshed out in our Lord:
"Look at my servant, whom I strengthen. He is my chosen one, who pleases me. I have put my Spirit upon him. He will bring justice to the nations. He will not shout or raise his voice in public. He will not crush the weakest reed or put out a flickering candle. He will bring justice to all who have been wronged. He will not falter or lose heart until justice prevails throughout the earth. Even distant lands beyond the sea will wait for his instruction."

Isaiah 42:1-4, quoted in Matthew 12:18-21, New Living Translation
The reason we pause for worship, not just on Ash Wednesday, but this day, is because we need more of this life in our lives, more of Jesus' mercy in our times of weakness, more of his resolve in the face of injustice, more of his forgiveness and grace in the face of the sin and the shame that separates us from the life of God.
May we pause in prayer for just a few moments, to reflect on our dying and the new life entrusted to us in Christ? The early followers of Jesus celebrated Jesus' death and his victory over death through a lengthy all-night vigil which drew deeply on the roots of the Hebrew scriptures – the Creation, the Covenant, and the Crossing of the Red Sea. Theirs was a night of fire and water, of light and dark, God working through the opposing forces of life and death, wrestling for us and for our salvation. It is a night of impossibilities, everything from nothing, light out of the darkness, safety through the fiercest flood, dry ground where once there was no way forward.
We mark the beginning of Lent as we count backwards from that night, from that Pachal Vigil, from that Easter Eve, from the first full moon after the vernal equinox. We count backwards 40 Days, skipping the Sundays, the little Easters, the miniature celebrations of the miracles, to arrive at the strangest of all days, Ash Wednesday. No bonfire, only ashes. No flood waters or Red Sea crossing, but the same God, the same Spirit speaking. Take a moment to listen to what this God is saying to you in this season of dying to yourself, to your sin and your shame, to your pride and your vanity, to your sense of strength and accomplishment. Take a moment to consider how this season will be for you a time of surrendering all that speaks of yourself...
As we offer God a moment on the horizon of this season of Lent, consider the gift of life that we receive in the midst of death. I love the story of Steve Gleason as he shares the naming of his son, Rivers:
"Anyhow, the big thing is, I'm writing a bunch about what the word and the name, what "rivers" actually mean to me. I came up with this several years ago, but I decided that rivers are the source of fire. Here's my logic: A fire burns wood as its fuel, and this wood comes from a tree that drinks from the rivers, and so, the rivers are the fuel for the fire. You are the rivers...for my fire."

From transcript of "Gleason (2016)"
Know that somehow, by God's grace, even in this kingdom of ashes, there is a river, a strong and steady stream of life that flows on and on, that speaks of God. Christ is our source of new life, so let this season be a time of searching, of becoming alive to God's presence as we die to ourselves. May you know more of God's peace and God's joy in Christ as you come to the end of yourself.
Comments