Speakers
Bishop LaTrelle Easterling
–

Preacher, Opening Worship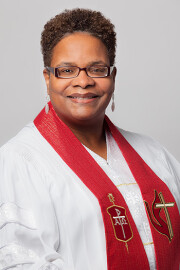 Bishop LaTrelle Easterling will preside over this session of the Baltimore-Washington Conference and preach at the opening worship service. She is the first woman bishop to lead the 234-year-old Conference. She was elected as a bishop in The United Methodist Church in July 2016.
An Indiana native, Easterling worked in the human resources field and as an attorney before being ordained a Deacon in 1995 and an Elder in 1997. She served at Union UMC in Boston's historic South End, Pearl Street UMC in Brockton, Mass., and Old West Church, UM, in Boston. From 2012 to 2016, she oversaw 57 congregations as superintendent of the Metro Boston Hope District in the New England Conference.
She received a Bachelor degree from Indiana University and a Law degree from Indiana University School of Law. She graduated summa cum laude in 2004 with a Master of Divinity from Boston University School of Theology.
Bishop Easterling is married to the Rev. Marion Easterling Jr., pastor of Wesley Grove UMC in Hanover. They have two sons, Garret Walter and Miles Teronza.
Bishop Ernest Lyght – Preacher, Ordination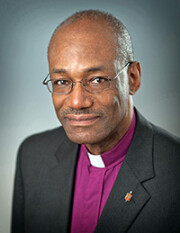 Bishop Ernest Lyght, a retired Bishop who will preach at the Service of Ordination June 1, was elected as an episcopal leader in 1996. He served first the New York Area, and then the West Virginia Area, until his retirement in 2004. As a bishop, he also served as president of the United Methodist Men's Commission and as a member of the General Council on Finance and Administration.
A native of Salisbury, Md., Bishop Lyght grew up in United Methodist parsonages in Maryland, Pennsylvania, New Jersey and Delaware. He received a B.A. degree in history from Morgan State University and an M.Div. degree from Drew University. Princeton Theological Seminary awarded him a Th. M. degree and the D.Min. degrees. He was ordained in the Peninsula-Delaware Conference and also served as a pastor and district superintendent in New Jersey.
Bishop Lyght and his wife, Eleanor Bell Lyght, live in Delanco, New Jersey. They have two sons, Eric and Erwyn, and two grandchildren, Corinne and Shawn.
Rev. Ginger Gaines-Cirelli – Preacher, Memorial Service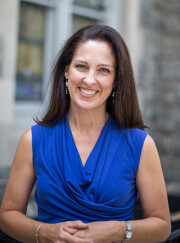 The Rev. Ginger Gaines-Cirelli, who will preach at the Memorial Service June 2, is the senior pastor of Foundry UMC in Washington, D.C. She is the first woman to serve that congregation in its 200 years history. Prior to that, she served as pastor of St. Matthews UMC in Bowie and Capitol Hill UMC.
A native of Kiefer, Oklahoma, a small town near Tulsa. She earned her master's degree from Yale Divinity School. She was also a pastor-theologian fellow for Princeton University Seminary. She is one of the editors of the Common English Woman's Bible, which was released last year.
She and her husband, Anthony, a Roman Catholic theologian who works for the U.S. Conference of Bishops, live in Capitol Hill.
Rev. Steve Manskar – Bible Study Leader
The Rev. Steven Manskar, director of Wesley Leadership with the denomination's Board of Discipleship in Nashville, will be leading the Bible study at the Annual Conference Session June 1 and June 2.
Manskar, the author of "Disciples Making Disciples, is a clergy member of the Minnesota Conference. He served congregation in Maryland and Minnesota until he joined the staff of Discipleship Ministries in 1999. A significant part of his leadership is leading seminars on Covenant Discipleship groups, small group ministry and Wesleyean leadership. He is the author of several books.
See some of his thoughts on Wesleyan leadership and accountable discipleship.
Rev. Dr. Susan Henry-Crowe – Speaker, BWARM/MFSA Dinner
The Rev. Dr. Susan Henry-Crowe is the General Secretary of the General Board of Church & Society (GBCS) of The United Methodist Church. She was appointed to that role in February 2014.
Prior to her appointment to GBCS, Henry-Crowe was Dean of the Chapel & Religious Life at Emory for 22 years, where she conducted a ministry to and with a diverse constituency of 12,000 students and 2,400 faculty members. She focused on interfaith and ecumenical work, mentoring and vocational formation of a new generation for social-justice ministries, and stewardship and fundraising. A key aspect of her work at Emory was to foster interreligious dialogue in the ever-changing world of religious pluralism.
For 16 years, Henry-Crowe served as a member of the United Methodist Judicial Council, the denomination's "Supreme Court." She is the first woman elected president of the Judicial Council, serving in that role from 2008-2012. As a clergy delegate to three General Conferences, Henry-Crowe also served on the Legislative Committee on Administrative Order, helping to examine and write the legislation on membership of boards and agencies, and on the Committee on Plan of Organization & Rules of Order.
Henry-Crowe was ordained an elder and continues to be a member of The South Carolina Annual Conference. In South Carolina she served in three pastoral appointments, and as Associate Director and then Director of the Conference Council on Ministries.
Recipient of a Master of Divinity degree from Candler School of Theology at Emory University, Henry-Crowe also holds a Doctor of Divinity from LaGrange College. She has served on the Board of Trustees for Claflin University, Columbia College and Santiago College. In 2000, she was named Chaplain of the Year by the General Board of Higher Education & Ministry. She also has been recognized for her work in her commitment to social justice.