Fragment 5: Intake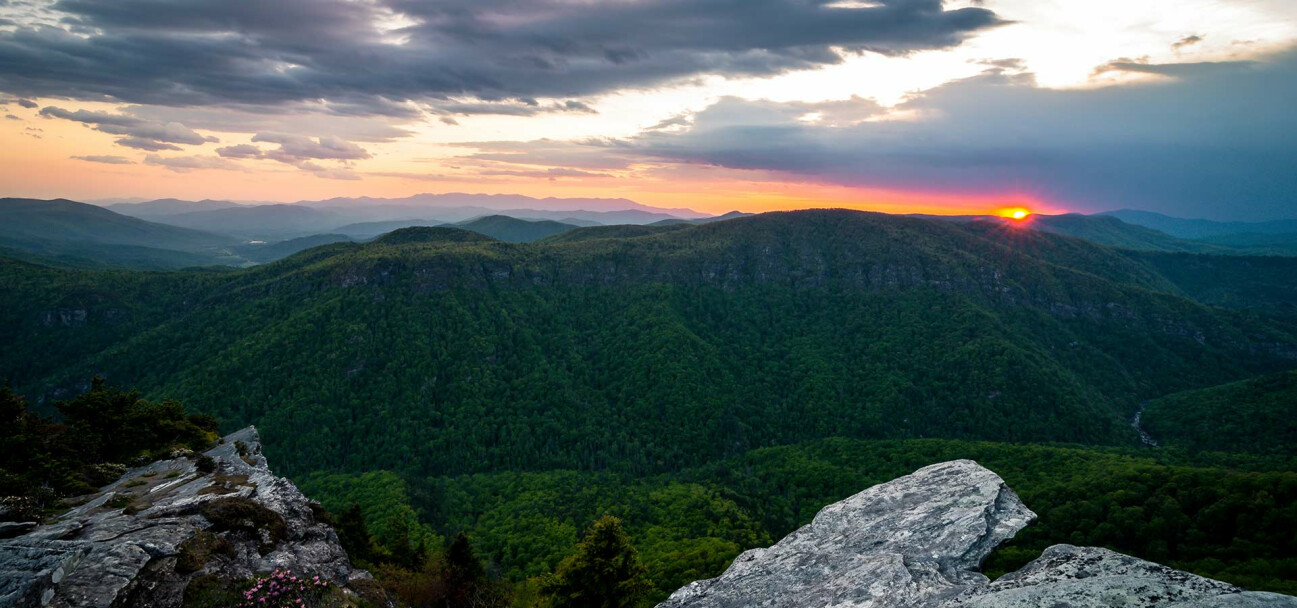 "Step by Step" (John 6)
By Rev. John W. Nupp
The Appalachian Trail runs for 2200 miles, from Georgia to Maine. Only a small sliver of the AT cuts through our Annual Conference, just about 45 miles of trail winding through Harpers Ferry across the Potomac then heading along South Mountain. This distance may sound small to those living in the DC area, whose average daily commute may exceed 50 miles per day. But consider crossing 50 miles with all the supplies that you need in a backpack. Using the typical rules of hiking, you should allow for 3 mph, or 2 mph with a pack. At that speed, maybe it's not that different from commuting around DC after all!
And when we cannot take another step, when we have come to the end of ourselves, let this be the blood of Christ, flowing through us. When our single life is too weak, too insufficient, too limited to carry on, let this become the body of Christ, alive around us.
Whether we are hiking up the trail or driving down the road of life, the real issue is not our speed but our intention. There is a real difference between those traveling through life as tourists and those who take to the trail as pilgrims, between the day hikers enjoying the scenery and those truly committed — the "through-hikers" who are in for the long haul. That Trail Mix for sale at the gas station is not just for snacking while you are stuck in traffic. You will need that—and a lot more—if you are dedicated to the journey.
Some people see themselves as spiritual tourists, seeking a glimpse of God or just a taste of Jesus, maybe a selfie with the Spirit along the road. But some have come to rely on God for more, for the very essence of life itself.
By the time crowds have come to Jesus to hear him speak about the offer of Bread from Heaven, he has already fed more than 5,000 people. Jesus accurately points out that many have come seeking another fast food meal. Who could blame them? But Jesus encourages them (and us) to hunger for more — "Do not work for the food that perishes, but for the food that endures for eternal life…" (see John 6:27). How do we interpret this command?
This is not an easy word to hear, to understand, or to practice. By the time Jesus gets to the end of this message, he has alienated most of the crowd. Only the most desperate disciples remain. They know they will need provisions like food and water, yes, but they are learning from Jesus to rely on something even more substantive, something somehow even more reliable and eternal: his words. Peter confesses that these are the words of eternal life (John 6:68).
At one level, this sounds ridiculous, doesn't it? I mean, does Jesus really expect us to live on his words? But just think about this: the bread eaten by the 5,000 is long gone, but we are still digesting what Jesus said that day. The fresh fish from the Sea of Galilee is gone, but we simply open up our Bibles (or our phones or tablets) and find an eternally life-giving word from our Savior, ready to nourish us for this day, this moment! Amazing, isn't it?
Our Savior is so amazing that, even when those through-hikers could not reach the end of the trail; when they turned him in, when they turned away and ran, when they denied even knowing who he was, he was faithful to the very end. Through the trials, through the cross, through the tomb, Jesus persevered for us. On that very night he was betrayed, he offered the Bread, broken. On the eve of his persecution and death, he offered the fruit of the Vine, crushed.
Take it in. Take it all in. This is our food, this is our sustenance, this is our source of life for the long haul. And when we cannot take another step, when we have come to the end of ourselves, let this be the blood of Christ, flowing through us. When our single life is too weak, too insufficient, too limited to carry on, let this become the body of Christ, alive around us.
We are not alone. We are One. One with God through the gift of life in Christ; one with each other through new life in the Spirit; one in ministry, in self-less service to all the world, to all in this world, for the sake of Christ. Take it in. Take in Jesus' life, his body, this Bread of Life. Not just for yourself, but for the sake of that one next to you, who needs to hear the eternal words again.
Let this be the mark of Jesus' life in you: the Intake of his word. If prayer gives feet to our faith — causing us to walk after Christ — then it is through the Word of Christ that we are nourished. Those who hunger after Christ find strength in the written word of Scripture and in the fleshed-out word of the Sacrament. We feast on Christ, so that we may take in the life of Christ for the journey he calls us to take with him.
Spiritual Disciplines: A D-I-Y Guide to Scripture, Prayer and Faith Formation
Week Five: Baptism
By Rev. Kyle Durbin, Frostburg UMC
"Concerning baptism, baptize thus: Having first rehearsed all these things, "baptize in the name of the Father and of the Son and of the Holy Spirit" (cf.Matt. 28:19), in running water; but if you have no running water, baptize in other water, and you cannot in cold, then in warm. But if you have neither, pour water three times on the head "in the name of the Father, Son, and Holy Spirit." And before the baptism let the baptizer and the one who is to be baptized fast, and any others who are able. And you shall bid the one who is to be baptized to fast one or two days before."

- The Didache, VII
As evidenced by the above quote from one of the oldest documents in the history of the Christian faith (other than those included in the New Testament, of course), baptism has been a part of Christian life for as long as the church has existed. Accounts of Jesus' baptism are found in Mark 1:9-11, Matthew 3:13-17, and Luke 3:21-23. Each narrative offers the first time that each person of the Holy Trinity is explicitly described as being present at the same time in the biblical record (though, certainly, it can be inferred in other passages as well). As a sacrament, baptism becomes what many refer to as, "an outward and visible sign of an inward and invisible grace." In baptism, sins are rejected, commitments are made, individuals are named and claimed, disciples are called and sent, and through it all, God is present. We emerge from the baptismal waters as a new creation, stepping into a new life in Christ through the Holy Spirit.
Do you remember your baptism? Unlike the sacrament of Holy Communion, baptisms are only performed once in a lifetime (Ephesians 4:5). In The United Methodist Church, baptisms may be performed on infants and adults alike. If you're like me, you were baptized as an infant, so the odds of legitimately remembered the experience are unlikely, but we need not let that prevent us from remembering the significance of this powerful act. Many of us use water, seashells, and other elements each year on the Sunday morning when we celebrate the baptism of our Lord. This year, at my church, we dipped our hands into the font and removed a gemstone. The smoothness of the rock, created by the movement of water over time, offered a reminder of the way God continues to use the baptismal waters to shape and transform us. The rock was encouraged to be kept in our pocket, as a daily reminder of our baptism.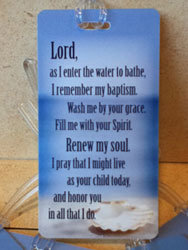 Pastor and author, Adam Hamilton, offers a unique and meaningful practice for members of his congregation at The United Methodist Church of the Resurrection in Leawood, Kansas. A waterproof card can be hung in a shower or bathroom, as a daily reminder of one's baptism, every time she or he steps into the water. On the card, we find the following prayer: "Lord, as I enter the water to bathe, I remember my baptism. Wash me by your grace. Fill me with your Spirit. Renew my soul. I pray that I might live as your child today, and honor you in all that I do. Amen."
Additional resources
Inspiration
"May your choices reflect your hopes, not your fears." - Nelson Mandela
The miracle of change can be small. It can all start by saying "yes." Or in the right context, no. Do one thing a day out of your comfort zone and see how it changes your mood and how you view others and the world. Want to share your adventure? Snap a picture and tag @bwcumc on Instagram, Facebook and Twitter. #7daysofchange