Fragment 2: Overflow
We are One as we explore the abundant overflowing love of God. Read a reflection by the Rev. John Nupp of the BWC's Center for Clergy Excellence; look into the heart of an expectant mother as Alison Burdett considers Living Water; explore how prayer beads can deepen your relationship with God with insights from the BWC's worship team; take a poetic glance at the woman at the well with Living Water, a spoken word piece written by Andrew Shropshire, and download wallpaper to carry this week's message into your daily life.
"Well, Well, Well" (John 4)
Where does your water come from? It depends on who you ask, I suppose. Ask a Kindergartner and they might point to a water fountain. Older kids might tell you about the water cycle, about streams and rivers, clouds and rain. Still older students can explain about aquifers and water treatment facilities and the more complex problems facing our planet in terms of water shortage.
Maybe you've heard the statistics: one in 10 people on the planet lack safe water, more people have access to cell phones than a toilet, and one in 3 lack basic sanitation ( see water.org). With these challenges, it would be great to find a simple solution, wouldn't it?
When Jesus encounters the woman at the well, the simple truth is that he comes tired and thirsty. She has the means which Jesus lacks to draw the physical water from the well. He is thirsty. He asks for a drink from the well. Before we rush ahead into sermonizing the conversation which follows, in which Jesus challenges the observed boundaries in his society between men and women, Jews and Samaritans, the good people and the bad, I want to know if he ever gets anything to drink.
At one point, the woman even points out the obvious problem to Jesus – "You have no bucket and the well is deep!" Does this sounds like helpful information to a thirsty man sitting in the sun at high noon? They talk about religion, politics, history, relationships, and more religion, but does Jesus ever get anything to drink? I guess he does. But the point is, he cannot get it for himself – he must rely on someone else.
One of the first lessons we learn at the font is that we cannot baptize ourselves. Try as we might to earn God's love, it can never be anything other than a response to God's grace. We may be nurtured in a loving family or a loving church family until we take on those vows, those promises, for ourselves, but at the core of our baptism lies this profound reliance on grace.
I remember hearing about some travelling companions of Lawrence of Arabia who tried to solve their water problems by taking back to their arid country some of the technology they had picked up in Paris, literally! Lawrence found bathroom fixtures and pieces of pipe stowed away in the luggage.
Whether this story is true or not, it does reveal a basic human flaw. The prophet Jeremiah addresses this early in his critique of the nation's turning from God: "They have forsaken me, the spring of living water, and have dug their own cisterns, broken cisterns that cannot hold water" (Jeremiah 2:13). We try so hard on our own to solve our problems, but disconnect from the source of our salvation. After all, God seems so far away and inaccessible to us sometimes – like a deep well for a thirsty soul with no bucket!
Enter Jesus, Savior to the hurt and the hurting and even to those hurt others. For those who have settled for something less than the abundant life God intends for us, for those who are just barely making it through the day, and even for those who seem intent on stealing joy from others, Jesus comes with a real solution. But we cannot take his solution and run away with it any more than we can unscrew faucets from France and expect to take a shower in the Sahara. We must stay connected!
As we prepare for our time together at Annual Conference, we have been considering signs of life. Not just those marks that show we are alive as human beings, but those parallels in our spiritual lives that show God is at work. What is the sign that God is at work in the life of this Samaritan woman and in her town? What miracle takes place there that day, which might happen again in our lives, here today?
It is the miracle that she is filled with living water, but not just filled herself – she is filled to overflowing! The entire town comes to know that she has met Jesus that day, that she has found in him the source of living water.
Water and Life
Water and New Life
By Alison Burdett, BWC Communications
The Living Water
By Andrew Shropshire, Eastern UMC
In the fourth chapter of John, Jesus runs into a Samaritan women at the well. He asks her for a drink. She is puzzled by this and Jesus has to break it down, and he tells her about the living water, eternal life, and even tells a thing or two about her life. John 4:5-26
Many of us are like the woman at the well, holding on to things
that resemble solutions, sometimes it's hard to tell
While we think it's solutions we are packing, in reality
it's temporary thirst quenchers and convenient distractions
The time is now to take a bold action, partaking of this living water,
Christ Jesus can give us the ultimate satisfaction
Now to those who don't believe this might seem odd, but to those who believe
they understand that the living water is the Spirit of God
It matters what you believe in, it matters what you're into,
you claiming entitlement, it doesn't matter who you kin to
Allow the spirit to move in you like IV fluid,
for any dead place in your life God can renew it
The Spirit gives life, let it move from heart to heart and breast to breast, passed on and on,
I am excited about what God is birthing in you, as you receive this, pass it along.
Spiritual Disciplines: a DIY Guide to Scripture, Prayer and Faith Formation
Prayer Beads
By Rev. Kyle Durbin, Frostburg UMC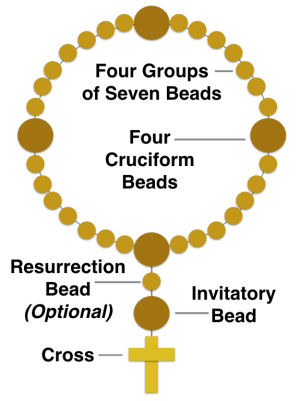 While many Protestants associate the prayer beads with the traditional rosary practiced by our Catholic sisters and brothers, the concept of using a string of beads to guide personal prayer and meditation actually pre-dates the Christian church altogether by some thousand years. Believe it or not, the word bead that we're familiar with, is actually taken from an Old English term, bede, which in fact means "prayer." Even still, it is generally understood that the art of using beads for devotional purposes was shared with Christianity by practitioners of other Eastern religions.
Nevertheless, the spiritual discipline of guided prayer using prayer beads has experienced a significant increase in popularity in recent years, and this includes Christians of protestant and catholic denominations alike. The traditional structure includes a circular patter involving four Cruciform beads, separated by four groups of seven beads.
As Christians, the number four could serve to remind us of the four points on the cross, the four Gospels, or the four seasons found in God's created world.
Meanwhile, the number seven often often speaks to the concept of completion and wholeness in scripture, as well as the seven days of the week in Creation, the seven seasons in the liturgical calendar, and an assortment of other biblical allusions. Attached to the lower cruciform bead, there is often an additional bead known as the Invitatory bead as a place to enter into the prayer, followed by a cross.
This results in 33 total beads, signifying the years of Jesus' life on earth. Modern adaptations in the protestant church have also begun adding an extra bead at the bottom called the Resurrection bead, a wonderful addition for this blessed week following Easter.
Prayer beads can be purchased online or can be made at home using anything from pasta noodles and children's plastic beads, to wood, glass, or ceramic beads found in any arts and crafts store.
Prayers may be guided by scripture, by common recitations such as the Lord's Prayer or the Serenity Prayer, or by finding any number of traditional prayers available online, such as the Prayer of Julian of Norwich, or the Prayer of St. Patrick.
Additional Resources
Inspiration
Desktop Wallpaper
Reflection