Introducing HealthFlex Exchange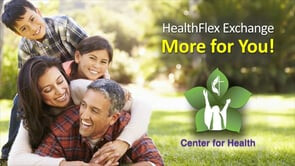 The Baltimore-Washington Conference will participate in HealthFlex Exchange for our conference health insurance program, effective January 1, 2017.
HealthFlex Exchange was created as a model that will give HealthFlex participants more flexibility to choose their coverage while giving plan sponsors, such as the Baltimore-Washington Conference, more control and predictability over health plan costs.
Participants will choose coverage that best fits their health needs and financial situations. It encourages greater accountability by participants, but retains the valued HealthFlex benefits and wellness opportunities that are currently offered.
HealthFlex Exchange provides cost transparency to participants. This system discloses the true cost of healthcare services and plan benefits.
The HealthFlex Exchange is administered and operated through the General Board of Pension and Health Benefits, now known as Wespath. HealthFlex Exchange retains the HealthFlex framework, including the same (United HealthCare, UBH, & Catamaran) networks, carriers and wellness programs.
HealthFlex Exchange has the same eligibility rules as other HealthFlex plan designs.
This program aligns with changes in the health care industry nationwide.
BWC participants will select from six medical/prescription plans, three dental, and three vision plans.
Find out more in the video and downloadable info sheets below.
Resources
These resources will assist you in selecting the HealthFlex Exchange Plan most suitable for you and your family needs. We highly recommend that all participants review these resources prior to the info session.
HealthFlex Exchange Video
The full video runs approximately 17 minutes. Watch it here, or via YouTube.
Downloadable Info Sheets
BWC 2017 HealthFlex Exchange rate sheet (PDF)
HealthFlex Exchange Overview (PDF)
HealthFlex exchange gives you more flexibility to select a plan that best fits your family size, health needs, budget and ability to handle unplanned medical expenses:
Same Health Plan Partners and Same Provider Networks
Same Wellness Programs and wellness incentives
Key Considerations Document (PDF)
With more choices, there also are many factors to consider as you decide which plan fits you best. This document, along with the Coverage Advisor and MyChoice online tools, can help you compare and contrast the various options.
Decision Support Summary (PDF)
Take advantage of these online tools to select the HealthFlex options that best fit your needs. Coverage Advisor will be available through the HealthFlex/WebMD website in early September. MyChoice will be available during the Open Enrollment/Annual Election period.
Med/Rx Plan Comparison (6 Plans) (PDF)
One traditional preferred provider organization (PPO) plan, two consumer-driven health plans (CDHP) with health reimbursement accounts (HRA), and three IRS-qualified high-deductible health plans (HDHP0 with a health savings account (HSA).
Dental Plan Comparison (PDF)
There are three dental plan options. Dental Passive PPO $1000 is included in all Plan premiums. Participants may upgrade to Dental Passive $2000 or Dental PPO.
Vision Plan Comparison (PDF)
There are three vision plan options. All plan types include Exam Core. You can upgrade to Full Service or Premier.
HRA vs. HSA vs. FSA (MRA) Comparison (PDF)
HealthFlex HRA, HealthFlex HSA, and HealthFlex Health Care FSA (MRA) share some similar traits, but have important differences. This document summarizes some of the key characteristics of each.
Glossary
You may also download this glossary (PDF).
Co-insurance
Percentage of health care expense paid by participant and/or HealthFlex plan
Co-payment
Flat dollar amount participant pays toward health care expenses
Deductible
Amount the participant pays in full before the plan begins paying co-insurance. (Eligible wellness and preventive services are covered 100% and not subject to the deductibles.)
FSA
Flexible spending account
HRA
Health reimbursement account (also called health reimbursement arrangement)
HSA
Health savings account
Limited-use (HRA or MRA)
Use limited to dental and/or vision expenses (until one meets IRS-defined deductible and notifies WageWorks)
MRA
Medical reimbursement account (also called health care FSA)
Plan Types
CDHP: Consumer-driven health plan (includes HRA)
HDHP: High-deductible health plan (IRS-qualified – eligible for HAS contributions)
PPO: Preferred provider organization health plan