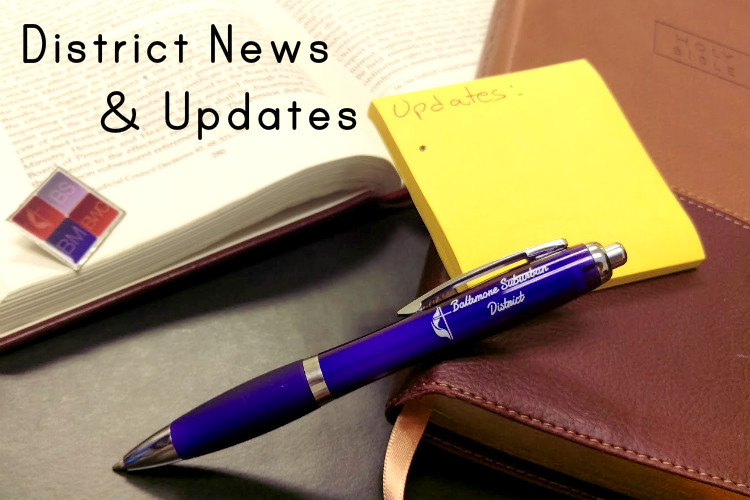 Congratulations to BWC Grant Recipients!
We wanted to extend a quick shout-out to:
2019 Leadership Development Grant recipients
Pleasant Hill UMC
Fallston UMC
Abundant Health Grant Recipient
Ames UMC, Bel Air - Save the Sanctuary Project
Young People's Ministry Grant Recipient
Baltimore Suburban Youth Ministry

Please take the opportunity to check out the Grants available through the BWC to aid and supplement your ministry!!
https://www.bwcumc.org/resources/grants-and-awards
---
BALTIMORE REGION SCHOOL OF CHRISTIAN GROWTH

The Baltimore Region School of Christian Growth is up and running!!
Follow this link for the 2019 Course Catalog:
https://drive.google.com/open?id=1e4shtglR8qfY1EdMPQ1kXYcX5Q50zjih
Follow the link below to register:
https://arenaweb.bwcumc.org/default.aspx?page=3439&eventID=4132
PLEASE NOTE:
There are still plenty of spaces and we'd love to see you!

Classes are open to all regardless of status. If you are registering for certification or renewal of certification, be sure you're selecting courses that qualify for what you need!

As you are registering, the course selection is on the second page of registration below the are where you enter your name and other information. Be sure to scoll all the way down.
If you experience any issues registering, please contact your District Administrator ASAP
Baltimore Metro- Christine Taylor:
Baltimore Suburban- John Gauthier:
---
BSD LAITY CONVENING
ATTENTION BALTIMORE SUBURBAN LAITY!!!
Do you have questions about what role you can play in your congregation?
Are you curious about how to become more involved but don't know where to start?
Do you want to know what the laity in your neighbor churches are doing?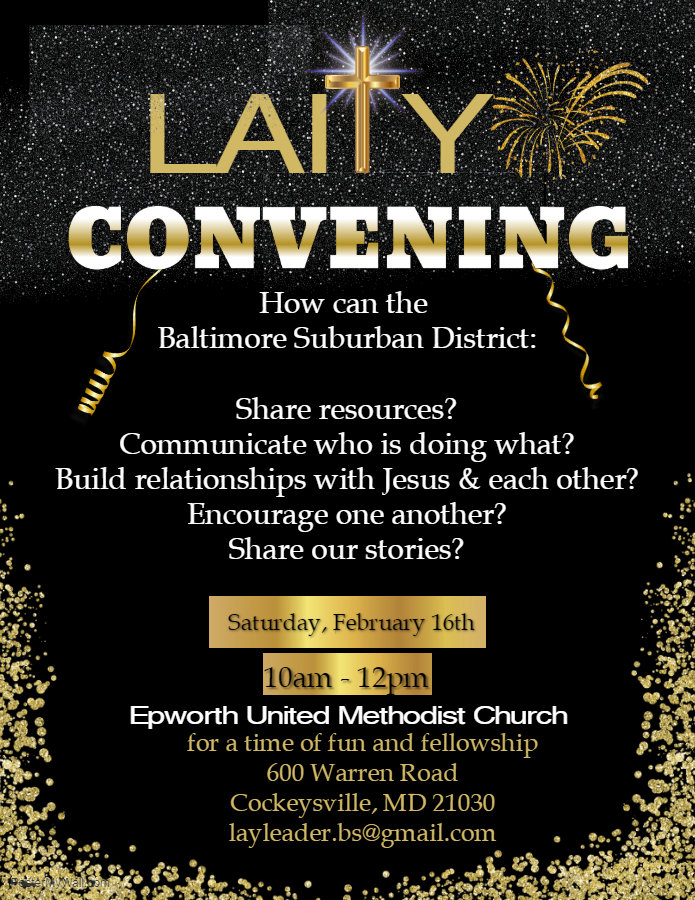 Then please join us on
Saturday, February 16, 10am - 12pm
at Epworth UMC, 600 Warren Rd, Cockeysville
For the 2019 Laity Convening!!

At this two hour event lead by our District Lay Leader, Thea Becton and District Superintendent Rev. Dr. Ann Laprade, we want to know what needs you have as Laity in the district, what ways we can stay connected, and to help find the tools and resources to help your ministries flourish and your leadership in your communities grow.

Follow the link below to RSVP:
https://arenaweb.bwcumc.org/default.aspx?page=3452&event=4173

Don't miss this opportunity to share in our connection as Laity-Centered United Methodists!!!

---
UNITED TO LOVE: ADVOCACY AND ACTION TEAM

We would like your voice at the table. The Baltimore-Washington Conference has six active teams to mobilize across our connection. These are:
Creation Care (Climate/Eco-Justice),

Gender Equality,

Gun Violence Prevention,

Immigration Rights,

Racial Justice

and

Wealth Equity.
If you are called to serve in one/more of these areas, if this is your passion and/or your faith community is leading in one or more of these areas, we would like to hear from you.
Please go to http://www.bwcumc.org/ministries/advocacy-action/ to sign-up so that we can connect with you.
---
ROCK 2019

ROCK 2019, February 8-10, is a retreat and revival for the youth of the Baltimore-Washington Conference will be held at the Convention Center in Ocean City, Md.
For more details, visit the link below:
https://www.bwcumc.org/rock/
---
THE LAITY FIX
The Laity Fix, a workshop on church growth with Lynda R. Byrd, will be offered from 8:30 a.m. to 12:30 p.m. Friday, Feb. 15, and again on Saturday, Feb. 16, at the BWC Mission Center. There is no cost for this event, sponsored by the Office of Leadership and Congregation Development. Register online. For more information, contact Jo Chesson.
---
BISHOP'S LENTEN DAY APART WITH CLERGY: CONTEMPLATION

Bishop Easterling invites all BWC Clergy to the Lenten Day Apart:
TIME/DATE: WEDNESDAY, FEBRUARY 20, 2019, 8:30 AM - 3:00 PM
LOCATION: GLEN MAR UMC, 4701 NEW CUT RD, ELLICOTT CITY, MD US 21043
For more information, follow the link below:
https://www.bwcumc.org/event/1249001-2019-02-20-bishops-lenten-day-apart-contemplation/
---
IMPORTANT DATES
February 8-10: ROCK
February 16: Laity Convening
February 20: Lenten Day Apart
February 21 - 26: Special Session of General Conference