The Link ~ 10/10/2017
October 10, 2017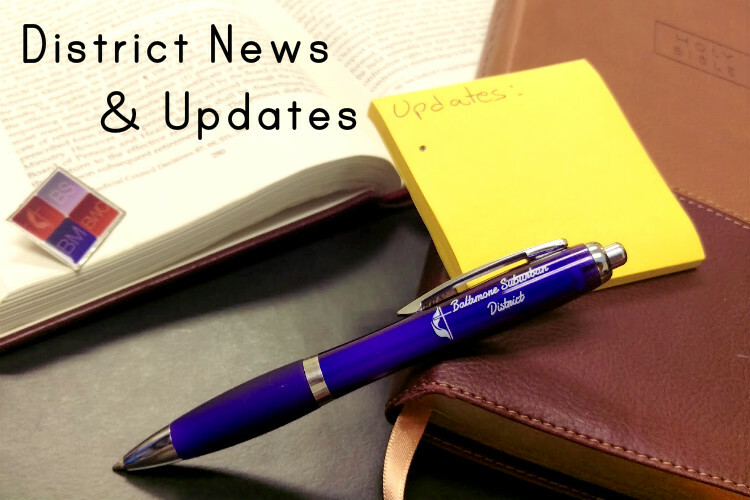 CHURCH CONFERENCE 2017

The full BSD Church Conference schedule can be found on the church conference website.
The Agenda is linked below ***Please note the Agenda has been updated***
AGENDA

Additionally, all Church Conference forms are available in Arena. Forms are due no later than 10 days prior to Church Conference. It is imperative that users read all directions prior to and throughout form completion.

Please remember we are asking each church to submit content for a powerpoint-supported presentation about your church. A representative from your church will lead the presentation supported by the materials you submit which I will incorporate into the presentation. Please have this to me AT LEAST 4 days prior to your CC date. Please make sure you have some conext for the images, and some music or narration behind/during the presentation.

IMPORTANT INSTRUCTIONS FOR CHURCH CONFERENCE
ALL Church-related forms can be found in the CHURCH Arena account- including those completed by individuals linked to the church (i.e. Committee Chairs, Lay Servant Ministries, Connected Clergy, etc.). The Church Arena account will also provide access to the entire Committee Leader Toolbox (see "Updating Committee Information" section below).

Forms that are unique to individuals based on their role within the church and/or Conference are also visible and accessible to those individuals within their personal Arena accountsunder the "My Church Conference Forms" tab.

This guide provides details on how forms can be accessed by those in specific roles.
Please contact John Gauthier if you are experiencing difficulty. Being reminded that this is a time of high call/email volume, your patience is greatly appreciated.
---
INSTALLATION SERVICE FOR REV. DR. ANN LAPRADE

You're invited to the installation of Rev. Dr. Ann Laprade as the Baltimore Suburban District Superintendent.

The service will take place on Sunday, October 15 @ 3pm. The service is being hosted by Linden Heights United Methodist Church, 9914 Harford Rd, Parkville, MD 21234, USA

A reception will follow with light refreshments.

Pastors are asked to wear robes, ordained clergy with red stoles.

We hope you will come and join us in celebration of our new District Superintendent!
---
BISHOPS DAY ON THE BALTIMORE SUBURBAN DISTRICT

The Baltimore Suburban District will be hosting Bishop LaTrelle Easterling on our district at Epworth United Methodist Church on Tuesday, December 5, 2017.

Clergy are asked to come from 2pm - 4pm.

Laity are invited to come from 6pm - 8pm.

All are welcome.
---
YOUTH LEADERSHIP TRAINING

The Baltimore Washington Conference is offering a Youth Leaders Training on October 13-15th at the West River Camp. More information can be found here: http://youthleaderconference.weebly.com/
The organizers are offering FREE registrations to all BWC District Youth Leaders if they are willing to get
3 churches to register
, help market event,
and
help as room hosts to introduce the break out speakers.
If you have you who are interested in attending, contact:
Bill Jones
;
OR
Susan Harry
---
CRITICAL CONVERSATIONS: GUN SENSE

The Baltimore-Washington Conference is hosting a discussion on this vitally important topic on:

Tuesday, October 17, 2017
Baltimore-Washington Conference Mission Center
11711 East Market Place
Fulton, MD 20759

This is intended as a time for listening and learning around a complex issue which we are obligated as Christians to address. Laity and Clergy are invited to participate in the conversation and all voices will be honored. Speakers from Law enforcement, our General Church, and local clergy and laity will present and lead us in this open forum. Please RSVP Here:
https://goo.gl/forms/FlJ39DcY6jX90rbF3
---
EVALUATIONS
The evaluation forms will be up shortly and the link with instructions will be posted here when they are ready. Thank you for your patience!!
Comments