CM District News and Updates
August 2, 2018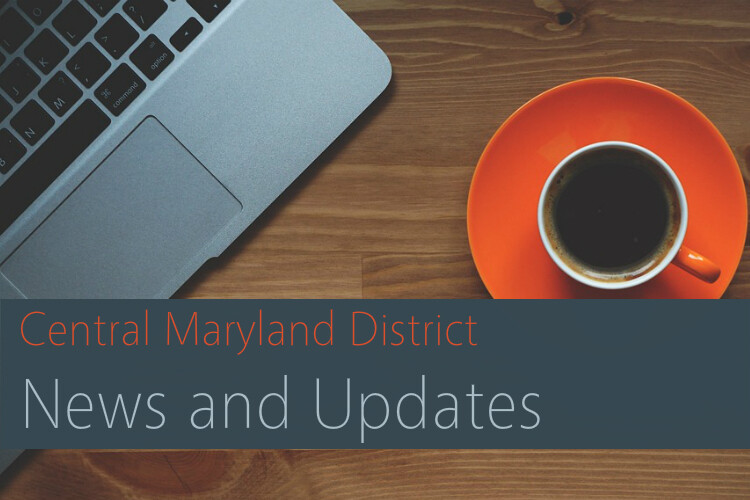 Church Conference Forms, Access to Arena and Trainings
Visit the Church Conference webpage to access the form templates, the Checklist, FAQs and more. Just a reminder that all forms need to be completed through Arena.

You can log into Arena which is located on the red ribbon at the top of the BWC webpage.

Trainings will be held at the Mission Center. Select a date and time that works best for you and your team. Sign-up for a training today.
August 9: 10 am-12 pm or 1-3 pm
August 14: 2-4 pm or 7-9 pm
August 22: 10 am-12 pm or 1-3 pm
---
New Beginnings
Congratulations and a joyous welcome to new pastors and those transitioning within the district. To our pastors heading to other districts or retirement, thank you for your service and blessings in your new journey.
CM District Appointments
Kevin Beall, Bethesda UMC
Veronica Beckley, Community of Faith UMC
Sherwyn Benjamin, Damascus UMC
Megan Blanchard, Mill Creek Parish UMC
R. Lorraine Brown, Mount Gregory UMC and Simpson UMC
Zelda Childs, Christ UMC
Crystal Davis Jones, West Montgomery UMC
Diane Dixon-Proctor, Sharp Street UMC
Timothy Dowell, Memorial UMC
Olivia Gross, Mount Zion UMC
Rodney Fry, Ijamsville UMC and Flint Hill UMC
Eunjoung Joo, St. Paul UMC
Brenda Lewis, Bethany UMC
William Maisch, Calvary UMC
Tyree Newman, Friendship UMC
Doralyn Osei, St. Mark UMC
Karen Lilli Pax, Gary Memorial UMC
Andrew Peck-McClain, Washington Grove
Trenton Prieshoff, Marvin Chapel UMC and Prospect UMC
Mandy Sayers, Glen Mar UMC (beginning September 8)
Anna Schwartz, Glen Mar UMC
Douglas Tzan, St. Paul UMC
Kathryn Woodrow, Damascus UMC
Ronald Young, St. Luke UMC
Transitioned to Other Districts
Bernadette Armwood, St. Johns-Pumphrey UMC, Baltimore Metropolitan
Lemuel Dominguez, Milford Mill UMC, Baltimore Suburban
Samuel Holdbrook-Smith, Ryland-Epworth UMC, Greater Washington
Amanda McMurtrey, Mayo UMC, Annapolis
Robert Ruggieri, Mt. Nebo UMC, Cumberland-Hagerstown
Deb Scott, Lovely Lane UMC, Baltimore Metropolitan
Chris Serufusa, St. Andrews UMC, Cumberland-Hagerstown
Retired
Terri R. Chattin
David S. Cooney
Marianne S. Grabowski
Jim Skillington
---
August 12: Attend the United to Love Rally
Bishop LaTrelle Easterling is calling on all United Methodists to be present on August 12 between 11 am and 3 pm on the grounds of the U.S. Capitol for United to Love, a rally for love, peace and justice. Register now!

Interested in volunteering as a greeter, water runner, marshal or transportation coordinator? Attend the next volunteer training on Saturday, August 4 at Emmanuel Church from 9am-1pm. The address is 10755 Scaggsville Road, Laurel, MD.
---
August 16: Glen Mar UMC Summer Concert
The Federal Brass of the U.S. Army Field Band will perform on Thursday, August 16 at 7 p.m. at Glen Mar Church, 4701 New Cut Road in Ellicott City. This event is free.
The Federal Brass brings a unique and innovative approach to chamber music. Its signature style comes from its focus on new and original music and its members' virtuosity and collective experience in big bands, jazz combos, rock bands, and orchestras – both symphony and studio.
Refreshments will be served and child care for preschool-age children and younger will be provided. For more information, visit www.glenmarumc.org/summerconcerts or call 410-465-4995 ext. 209.
---
Momentum: Two Languages. Three Locations.
School of Congregational Development (SCD) 2018 SPECIAL Online Teaching Event "Live" from San Diego, CA. This is a premier event for United Methodist leaders for equipping conference leaders, clergy, and laity to lead vital, dynamic, life-changing congregations.
Date: Friday, August 17, 7-10 pm, $10 per person, Spanish Only
Presenter: Pastor Alejandro Alfaro-Santiz
Location: BWC Mission Center, 11711 East Market Place, Fulton, MD
Date: Saturday, August 18, 11:30 am-4:30 pm, $29 per person (includes lunch), English Only
Presenters: Genevieve Cavil-Harris, Cedrick Bridgeforth, Larry Hygh, Lynda Byrd.
Locations: BWC Mission Center, 11711 East Market Place, Fulton, MD and Gethsemane UMC, 910 Addison Road S., Capitol Heights, MD

Register now or contact Jo Chesson for more information.
---
Young People's Ministry: Get Engage and Stay Connected
Youth Pool Party on August 19! Join with youth of the Baltimore-Washington Conference for an afternoon pool party at West River from 2-5 pm. All youth are welcome and encouraged to attend! The party is free to attend, but snacks and drinks to share are welcomed! Registration is limited (due to pool capacity) and closes on Sunday, August 12. To register yourself or youth, visit Eventbrite.com.
NEJ Mission of Peace--Philippines (December 28-January 15, 2019). The Mission of Peace is a yearly journey of discovery and Shalom to nations in our global community sponsored by the Northeast Jurisdictional Council on Youth Ministries of the United Methodist Church. Each year, every Annual Conference of the United Methodist Church in the Northeastern Jurisdiction may select up to four youth to share in this experience. On each MOP, participants worship in churches, meet youth in churches and civic organizations and share with people who have a similar longing for peace and understanding. These times have been the high points of each MOP experience. Students interested in attending this year's trip to the Philippines are required to raise $5200 to cover the cost of the trip. Applications and the first $500 are due to Cheryl Cook by August 15.
Focus groups starting in September. Register and participate in one of three focus groups. The survey data collected on July 15 will be used to create a strategic plan for Young People's Ministry within the BWC.

Have questions about these activities? Contact Cheryl Cook at or 410-309-3446.

---
reCall Summit 2018
The reCall Summit is a time of brave conversations as the church explores racial justice and reconciliation on October 26-27 at the DoubleTree Hotel by the BWI Airport.
Featured speakers will include Jim Wallis of Sojourners and Marvin McMickle of Colgate Rochester Crozer Divinity School.
For more information, contact Jo Chesson at 800-492-2525, Ext. 490. To learn more about how you can address racism, visit the NEJ's Call to Action.
$129 registration rate before August 31. Click here to learn more and register.
---
Network for Pastors with Small Membership Churches
Pastors with a congregations of 100 or less in worship, there's a network you can connect with to exchange ideas. Contact Pastor Phillip Ayers at 301-751-3262 or to RSVP for the next meeting on September 15 from 10am-12pm at Howard Chapel, 1970 Long Corner Rd., Mount Airy, MD.

---
Evaluations
Each year United Methodist clergy and congregations are to engage in an assessment process for increased effectiveness. These evaluations—when done in a spirit of love and desire to align ministry and leaders more fully with God's purposes—can be a powerful tool that helps everyone get (or stay) on the same page and work together toward excellence.
The evaluation forms you need are now available and the due date is December 1. Use the worksheets on the Resource page of the BWC website to collect the necessary information. You will need to complete the electronic forms in Arena.
---
Praying Our Way Forward
United Methodists are asked to join in "Praying our Way Forward" as the denomination approaches the February 2019 session of General Conference and discerns how the church will address issues of homosexuality. Get more details here.
---
Get Connected
Go deeper as a disciple of Jesus Christ through Leader Development, New Faith Expressions, Young People's Ministry, Advocacy & Action and Abundant Health all for the transformation of lives and the world. Learn how.
---
Clergy Coaching ~ Pro Bono Session
Pastor Alice Ford, Pastor Steven Cho and Pastor Phillip Ayers are graduates of Coaching4Clergy and approved coaches for GBHEM. They wish to share these valuable skills with clergy and congregations throughout the Conference. They are offering pro bono and discounted rates to assist in enhancing ministry. For information, contact Rev. Alice Ford: .
---


Revised BWC Policies and Procedures: A Guide for Clergy and Church Business
At the 2016 Annual Conference Session, members voted to update the BWC's Manual on Policies and Procedures. This document will come before the next conference session. Download your copy now.
---
2018 Website Development Grant Application
Website Development Grants are for local United Methodist churches and church entities who do not currently have a website. United Methodist Churches and church entities who wish to replace their current website with a WordPress site may also apply. NOTE: If you are a two or three point charge and want to have separate websites for each church, you will need to fill out a separate application for each church.
Comments