CM District Events
February 5, 2018
Important Dates / Events / Trainings:
UPDATED: Feb. 8 - Bishop's Pre-Lenten Day Apart and Worship Workshop - COMBINED!
Clergy Day Apart and Worship Workshop Combined into One Event on Thursday, Feb. 8
To address the inclement weather expected for Wednesday morning, the Bishop's Lenten Day Apart with the clergy, (scheduled for Wednesday at First UMC Hyattsville) and the Worship Workshop with Marcia McFee (scheduled for Thursday at the Mission Center) are being combined.
Both events will be held:
Thursday, Feb. 8, from 8:30 a.m. to 3 p.m.
at Mt. Zion UMC
12430 Scaggsville Road in Highland
All those, laity or clergy, who were planning to attend either of the original events, should come on Thursday to Mt. Zion UMC, where Marcia McFee will guide us into the season of Lent and explore how to create worship that involves "
deeply evocative and artful rituals that transform lives to transform the world."
---
Feb. 24 - Washington Region Leadership Day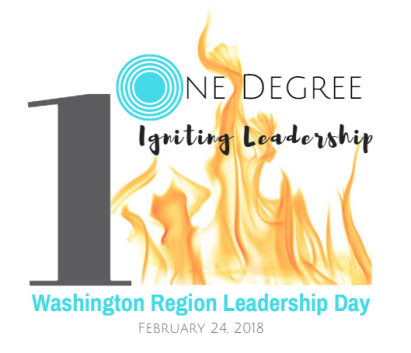 @ Reservoir High School - 8:00 AM
The Washington Region will host its 2018 Leadership Day on Saturday, February 24, 2018. Join us from 8:00 a.m. - 3:00 p.m. to engage in conversation and inspiration around finding YOUR ONE DEGREE!
Download the event guide and workshop catalog to choose your path toward Igniting Leadership!
Registration closes on February 18th!
Interested in being a Volunteer for Leadership Day? Click here!
Interested in hosting a resource table for Leadership Day? Click here!
---
Mar. 11 - UMCOR Sunday
UMCOR Sunday is right around the corner. This churchwide special Sunday with offering provides United Methodists the opportunity to help our brothers and sisters around the world in their time of need.

Our generous gifts through the UMCOR Sunday offering support the work of the United Methodist Committee on Relief. UMCOR provides immediate assistance in the wake of disasters and participates in ongoing ministries of food, shelter, health, and peace.

On March 11, our congregations will receive this special offering that ensures that when a crisis happens, 100 percent of giving for that disaster goes to those in need.

Read about how your giving changes lives in the U.S. and around the world.

Download the UMCOR Sunday Pastor and Leader's Kit and use the free resources to help celebrate and promote this special Sunday.
---
---
Upcoming Local Church Events:
---
---
Looking Ahead:
May 5 - 6 - CMD Lay Servant Ministries Academy

Formerly known as Discipleship Academy
@ BWC Mission Center
Saturday, May 5th: 9:00a - 5:00p
Sunday, May 6th: 3:00p - 5:30p
---
May 30 - June 1 - Annual Conference
@ Baltimore Marriott Waterfront Hotel
---
---
Baltimore-Washington Conference Events:
Upcoming Events
---
---
Have an event going on at your church? Let us know!
Contact Katie Filano, 410-309-3493.
Comments